In tennis as in life, time is truly the great equalizer
Roger Federer is forever
Shining BD Desk || Shining BD
Published: 9/18/2022 8:34:52 AM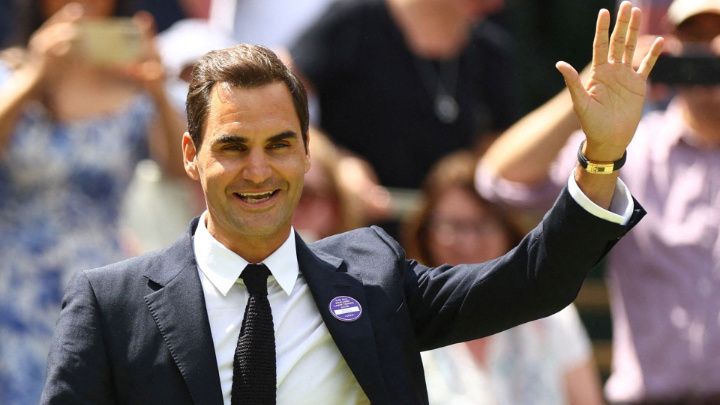 Growing up, I despised Roger Federer.
It started with his defeat of Pete Sampras, easily my favourite tennis player as a kid, the one who really got me into watching tennis. Seeing this strange young player who seemed to copy my favourite player, only with his ridiculous hairstyle -- it was easy to loathe at first sight.
Then came the ridiculous dominance of the early 00s. If Novak Djokovic seems unbeatable now (when he plays), Roger Federer at that time was beyond belief. Novak at least appears to have tried. He looks like he puts in effort.
Roger would stroll in, smug, poised, oh-so-fancy, hardly break a sweat, destroy his opponent, maybe put on a complete suit for his post-match ceremony because why not, and then it was on to the next one.
It was infuriating.
Roger Federer was arrogance personified. He was better than everyone else. He knew it and everyone else knew it. He held the world number 1 for 237 weeks consecutively at one time as a result. It was just too easy for him.
Records tumbled, one after the other, and before long, he had surpassed my beloved Pete Sampras's record haul of 14 singles titles at Grand Slam events in men's tennis.
Even more infuriatingly, he'd managed to win the French Open too, his pristine and elegant shot-making finally conquering his most elusive title when his kryptonite and my new and current favourite player Rafael Nadal fell to some unimportant player who then promptly lost to Roger to hand him the historic trophy, cementing his legacy, and at that very point, elevating him above the great Pete Sampras as the new benchmark for tennis greatness.
All along, my dislike for Roger grew exponentially, my young teenage mind lambasting his daintiness, his polished approach, his incredible knowledge of the world outside tennis, his immaculate sense of style and fashion, his graceful confidence, and of course, his annoying similarity to my childhood hero Sampras.
Wimbledon was Pete Sampras's house, with his seven titles. Roger soon made it his, with a brand of tennis as aggressive as Sampras played, but with the flair and flamboyance afforded to Agassi.
And yet, over the past few years, dating back to perhaps 2013, my relationship with Roger changed.
No longer was I the angry teenager. Having graduated from college by then, yet as fervent a tennis supporter as ever, I began to appreciate, not grudgingly anymore but sincerely, the sheer artistry of this player.
Age had also humbled him, and that made him more likeable. Perhaps he always was, but I just couldn't see it through my foolish disdain.
People thought he was done after winning 17 Grand Slam titles, three more than Sampras. He'd already been declared the greatest. He had nothing left to prove.
He'd not won a Grand Slam in five years when, armed with a new racket and a backhand for the ages, he took down his nemesis and now good friend Rafael Nadal at the Australian Open in 2017. If anyone dared to think that was a fluke, he followed that by winning Wimbledon, his eighth, offcially making Wimbledon Centre Court his.
In 2021, I witnessed Roger Federer, now almost 40, lose a set 6-0 on his court, the one he owned more than any other court. The grimmest of reminders that time truly is the ultimate equalizer, and not even the timeless Roger Federer can escape its effects.
And yet, this defeat takes me back 20 years ago to 2001 when Roger defeated Sampras at Wimbledon and announced himself to the world. Over the past two decades, two other champions have emerged to challenge his GOAT (greatest of all time) status -- my favourite player now of all time Rafael Nadal, and Novak Djokovic, who replaced Roger as the object of my loathing, and who I consider to easily be the best tennis player in history.
Earlier, I had wondered how much more Roger had left in him, which has now been confirmed as he has officially announced that he is retiring.
Realizing that I cared much more about his retirement than I should have, I think back to his legacy over these two decades and more, transcending the sport, reaching a level of both fandom and reverence -- from fans, his peers, generations young and old, world leaders, celebrities, entire nations' populations -- that simply had or has no equal.
I have despised Roger Federer for the better part of a decade. I never exactly rooted for him to win in any of the over 1,500 matches he has played.
But I now know and believe that I have been privileged to have watched him over the past two decades. As far as who the greatest tennis player is, not the best, mind you, but the greatest, with all intangibles and irrationality attached to the term, I continue to have no hesitation about the answer.
Enjoy retirement maestro, you have certainly earned it.
– AHM Mustafizur Rahman is Joint Editor, Op-Ed and Editorial, at the Dhaka Tribune. He considers tennis to be the best sport in the world. A previous version of this article first appeared in July 2021 and has been updated to reflect Roger Federer announcing that he is retiring.