What's 47 years between friends?
Shining BD Desk || Shining BD
Published: 7/28/2022 9:26:48 AM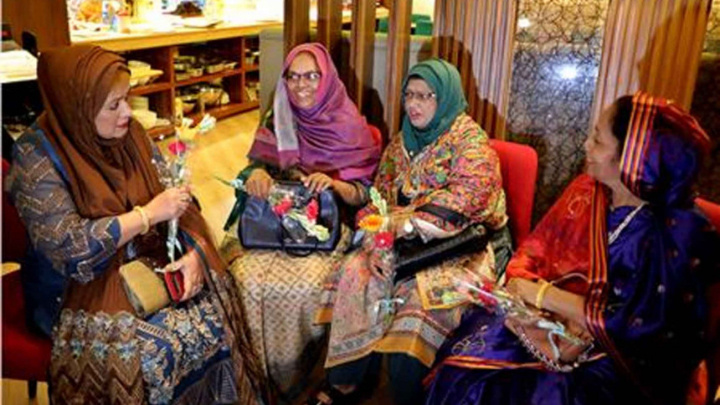 So they thought when they took a group photo commemorating the end of their school life.
After that, life took these seven young girls on different paths. Some got admitted to different colleges while some moved elsewhere with their families.
Since then, 47 years had passed. None of them was in touch with one another. In a twist of fate, what brought four of them together after 47 long years was that black and white photograph.
Dilkhosh Begum Putul, Shamima Akhter Rubi, Jhuma Abdullah and Nayar Sultana Hawa got reunited with each other with happy tears and smiles on their faces. The precious moment took place yesterday at a Dhanmondi restaurant in the capital.
The story behind this reunion is nothing short of a movie plot. At the beginning of this month, Putul suddenly fell ill. During a heart-to-heart conversation with her daughter Khusnood Nazeen Protyasha, she talked about her long-lost school friends.
Protyasha pulled out the only photo of her mother's schoolfriends from the family album and posted it on a Facebook group called "Bangladesh Dushprapya Chitrasamgra" (Rare Pictures of Bangladesh).
In the post, she mentioned that it was taken in 1975, at the farewell reception of Sher-e-Bangla Balika Mahavidyalaya (previously known as Mark Sikkha Mandir). She marked the people in the photo and mentioned that none of them is currently in touch with one another.
It was from the comment section that Putul found four of her friends from the picture and planned a reunion. But they had to plan it without three of the gang, one of whom is currently undergoing medical treatment and another could not make it to the reunion.
Whereabouts of the seventh member is still unknown.
"When I told my mother that I found her long-lost school friends, she started recovering quickly. It was nothing short of magic," said Protyasha.
The moment came after 47 years when the four could hug each other like in the old days.
"Social media has positive impacts too. If nothing else, it brings friends together. What else do we need?" said Giridhar Dey of Bangladesh Dushprapya Chitrasamgra.
"We have the reflection of our age on our faces but we could still recognise each other. It is as if nothing changed," they said.
After all, what's a few years between friends?
The Daily Star