More than 28 lakh people in 18 districts affected
Over Tk 86,811cr lost to floods
Shining BD Desk || Shining BD
Published: 7/26/2022 4:24:35 AM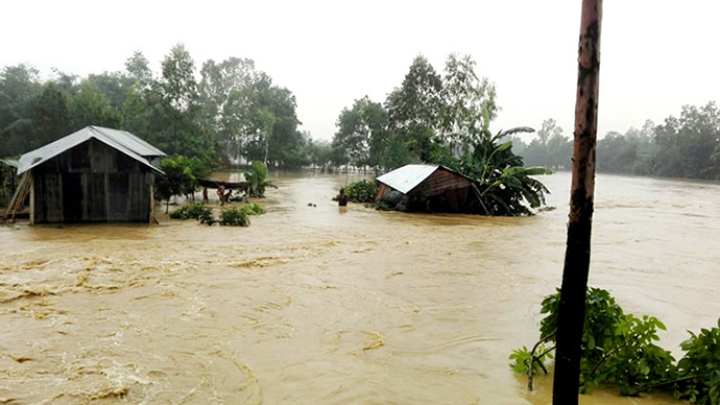 The recent devastating floods in 18 north and northeastern districts caused damages worth over Tk 86,811 crore, State Minister for Disaster Management and Relief Enamur Rahman said yesterday.
The deluge claimed 12 lives and injured 2,880 people. Over 28 lakh people were affected by the floods, he added.
The state minister was speaking at a press conference at the secretariat after an inter-ministerial meeting, organised to discuss flood damages and what to do in this regard.
The floods were triggered by torrential rains beginning in the second week of May.
Enamur said the deluge completely damaged crops worth Tk 1258.53 crore and partially damaged crops worth Tk 55957.21 crore.
Besides, damages caused to fully destroyed houses was worth Tk 368.84 crore, while the figure for partially damaged houses was over Tk 1,355.03 crore, he added.
He said the flood completely destroyed 229 bridges, 664km concrete roads, 315km brick roads, 721km dirt roads and 169km stretches of embankments, which financial damages of which amounted to around Tk 240.65 crore.
A total of 1,496 bridges, 1,886 km concrete roads, 676 km brick roads, 6,085 km dirt roads, and 2,882 km stretches of embankments were party damage, causing financial losses of about Tk 4,442 crore.
The damages to schools, colleges, madrasas, mosques, and temples were estimated at Tk 68.83 crore.
Heavy rains in the bordering Indian states of Meghalaya and Assam and onrush of water from the upstream aggravated the flood situation, the state minister said.
"The Surma was flowing above the danger mark from May 13 due to torrential rains and onrush of water from upstream, causing floods in Sylhet, Sunamganj and their adjacent areas."
The government has allocated 4,400 tonnes of rice, Tk 8.45 crore in cash, dry foods worth Tk 1.22 lakh, Tk 40 lakh for baby food, Tk 40 lakh for fodder and 8,000 bundles of corrugated iron-sheets for the flood victims.
The Daily Star