Battery-operated rickshaws cause shortage of electricity
Shining BD Desk || Shining BD
Published: 7/25/2022 8:28:32 AM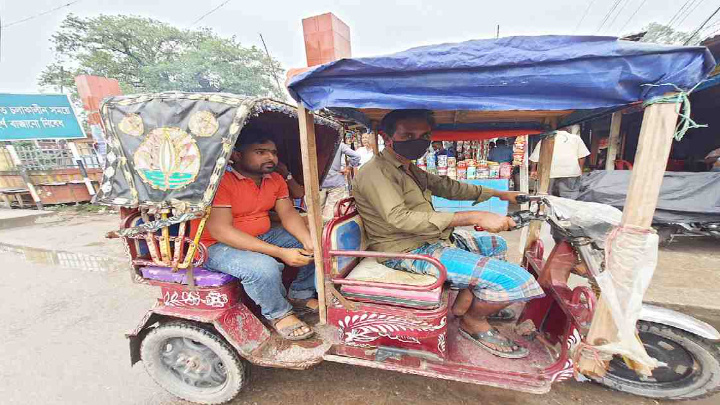 Although the government resorted to some austerity measures to save electricity amid the ongoing energy crisis, a large number of battery-operated rickshaws continue to run across the country causing shortage of electricity.
Power Development Board (PDB) authorities in the district have identified some reasons for the rampant load shedding that's crippling peoples' lives in the district, among which battery-operated rickshaws have found a top spot.
According to Thakurgaon municipality, although the number of registered battery-run rickshaws in the municipality is 2,400, in reality around 4,000 such rickshaws are plying the streets.
These vehicles are consuming 330,00 units of electricity on average per day and 9,90,000 units of electricity per month, it said.
A household consumes around 300 units of electricity per month, which means that a total of 3,300 families can use this amount of electricity that is used for charging battery-run rickshaws.
Owners of charger stations in Thakurgaon municipality said that they take Tk80 to Tk100 for charging the battery of the rickshaws. Besides, the driver of a battery-powered rickshaw has to give Tk300 to its owner per day.
"A fully charged battery-run rickshaw can travel 200 kilometers. Sometimes charge diminishes within the afternoon for plying longer distances. A driver of such rickshaws earns Tk700 to Tk800 per day," said Md Kalam, an easy bike driver, of the district.
Mohammad Mamunur Rashid, executive engineer of Thakurgaon Power Development Board (PDB), said that there are separate electricity rates for charging stations.
"Flat rate for charging battery-powered rickshaws is Tk7.64, while the off-peak rate is Tk6.88 and the peak rate is Tk9.55. Those who use double tariff meters pay their bills as per peak and off-peak rates, while those with single tariff meters pay their bills at the flat rate," Mamunur said.
Following a high-level meeting at the prime minister's office on July 18, Prime Minister's Energy Advisor Dr Tawfiq-e-Elahi Chowdhury announced the Bangladesh government's plan to resort to two hours of power cuts daily in each zone to tackle the energy crisis affecting electricity generation in the country.
Later in the day, State Minister for Power, Energy and Mineral Resources Nasrul Hamid apprised reporters of the revised decision of one hour of load shedding daily.
Following the government's decision, different power distribution entities – Dhaka Power Distribution Company Limited and Dhaka Electric Supply Company Limited – published their area-wise outage plans.
The government also announced a slew of measures for saving electricity, including the closure of shopping malls and markets by 8pm and the restricted use of air-conditioners. Plans are afoot to limit office hours and keep fuel outlets closed one day every week.
Dhaka Tribune