BNP is very insignificant in geopolitics: Information Minister Dr Hasan Mahmud
Published: 9/27/2023 4:33:31 AM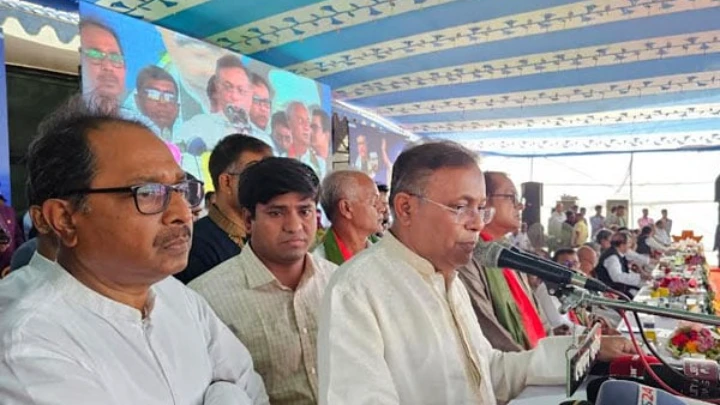 Information and Broadcasting Minister and Awami League Joint General Secretary Dr Hasan Mahmud said BNP is very insignificant in the perspective of geopolitics.
"You (BNP) are thinking that you would go to power through movements. But, BNP is very insignificant in the perspective of geopolitics. So there is no benefit," he told the triennial conferences of Jubo League city and district units at Pathanpara in the city.
The minister said Jubo League will go to the final game in the next month, not Awami League. "We will send our second team not first one. If needed, Mohila Awami League will go. I would like to urge BNP to play with them at first. After that if necessary, Awami League will play with you (BNP)," he continued.
Dr Hasan said BNP should remain alert about their leaders as they can change their party before the final game.
He said the Rajshahi region was turned into a region of terror during the BNP regime. Bangla Bhai and Shyoikh Abdur Rahman had turned the country into a heaven of militancy, he added.
He said some are claiming that BNP and Tarique Rahman would return again and they would create 'Hawa Bhaban' and 'Khoab Bhaban'. Bombs will be blasted at 5,000 places and many militants like 'Bangla Bhai' will be created if BNP come again, he said, adding, "We could not allow this".
About the US visa policy, the information minister said country's mass media employees think that the visa policy is tantamount to interference on the independent media.
He said the relations between Bangladesh and the US is very good. The visa policy is an isolated issue, he said, adding, "But I am concerned about a statement of the US ambassador as he told that the media will also come under the visa policy".
He said country's mass media is very independent, work freely and very strong. And an independent mass media always work as an associate of democracy, he added.
The minister said, "I don't understand on which basis the visa policy will apply to the mass media. Journalists, columnists and others think that this is interference on our independent media. I think it is not appropriate to control the mass media of other countries".
AL Presidium Member and Rajshahi city mayor AHM Khairuzzaman Litan addressed the conference as the chief guest while Jubo League President Sheikh Fazle Shams Parash inaugurated it.
JL general secretary Md Mainul Hossain Khan Nikhil addressed it as the key speaker with JL city unit president Md Ramzan Ali in the chair.
AL Organising Secretary SM Kamal Hossain, State Minister of Foreign Affairs Md Shahriar Alam, AL Rajshahi city unit president Mohammad Ali Kamal and district unit president Anil Kumar Sarker, among others, addressed the conference.
JL city unit general secretary Md Mosharraf Hossain and district unit acting general secretary Ali Azam Sentu conducted the conference.