34 people are killed by Blaze at an illegal fuel depot in Benin
Shining BD Desk || Shining BD
Published: 9/24/2023 6:41:28 AM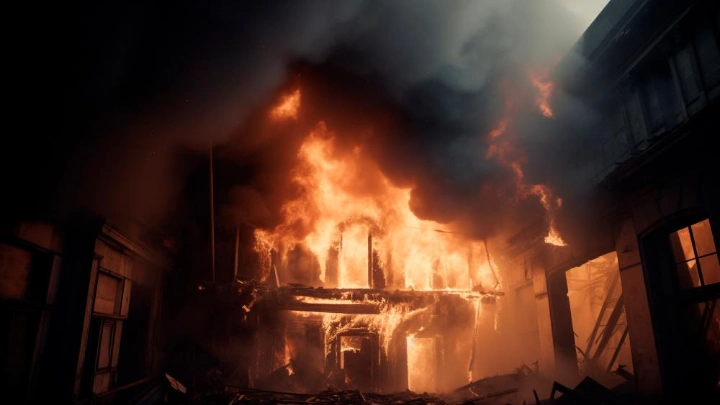 According to a government official and locals, a contraband fuel depot in Benin near Nigeria's border caught fire on Saturday, killing at least 34 people and leaving dozens of charred bodies in its wake. The explosion also sent a black cloud of smoke high into the sky.
According to locals, the fire broke out at a warehouse that stored illegal fuel in the town of Seme Podji in southern Benin. Here, vehicles, motorbikes, and tricycle taxis gathered to restock on fuel.
Nigeria is a significant oil producer, and illegal refineries, fuel dumps, and pipelines can occasionally catch fire. Fuel smuggling is widespread both inside and outside the nation.
I'm still in disbelief. We heard cries for assistance. However, the flames' intensity prevented anyone from attempting to get close," remarked neighbourhood carpenter Innocent Sidokpohou.
"I went to the store and got petrol for my motorbike. I heard an explosion from only five metres away when I left. All I saw when I turned around was black smoke."
Alassane Seidou, the interior minister of Benin, informed reporters that a significant fire had broken out in the town, but she withheld specifics from the reporters.
Sadly, 34 people have died, including two infants. Fuel that was smuggled in is what started the fire, which is why their bodies are scorched, the official stated.
The minister reported that twenty more patients, some of whom were in critical condition, were receiving treatment in a hospital.
A local bike rider named Semevo Nounagnon stated, "I live not far from the tragedy."
"I'm not really sure what started the fire, but cars, tricycles and motorcycles come through this huge petrol warehouse from morning till night."
For many years, Nigeria's cheap, subsidised petrol was trafficked illegally by road to its neighbours, mostly Benin, where it was then resold by unofficial vendors on the black market.
President Bola Ahmed Tinubu of Nigeria discontinued the long-standing programme designed to keep petrol prices for Nigerians artificially low when he took office in May.
The government had to pay billions of dollars a year for the subsidy, which Tinubu announced as the first in a planned set of reforms to revive Nigeria's economy and draw in more foreign capital.
In addition to tripling petrol prices in Nigeria, that decision also had an effect on the cost of fuel that was smuggled into Benin and other countries on the black market.
Nigeria's subsidy decision demonstrated Benin's profound economic reliance on its massive neighbour, which has 215 million people, the largest economy on the continent, and a prominent position as one of Africa's top oil producers.