African leaders take a courageous stance for sustainable development at the UN General Assembly
Published: 9/21/2023 9:11:51 AM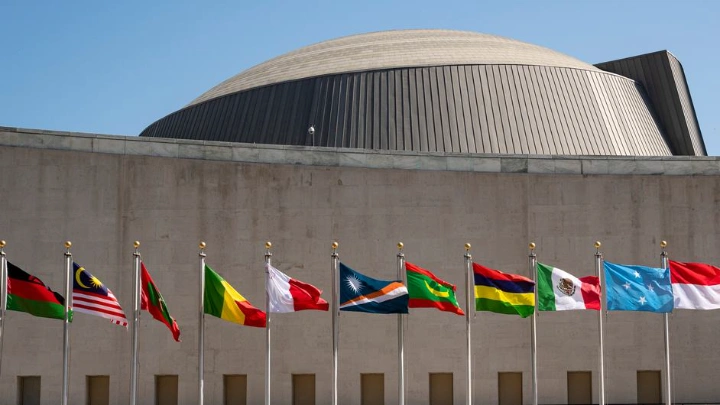 In the face of complex changes, the Presidents of Seychelles, Namibia, Ghana, Angola, Sierra Leone, and Liberia emphasised the urgent need to rebuild trust and rekindle global solidarity.
They expressed unwavering support for the 2030 Agenda and its Sustainable Development Goals (SDGs), while emphasising that the current trajectory falls short of goals, a situation that has been exacerbated by the COVID-19 pandemic.
In their speeches, world leaders emphasised the need for Security Council reform to make the 15-member body more representative and effective.
Accelerate joint efforts
The President of the Seychelles, Wavel Ramkalawan, emphasised that the international community must accelerate its joint efforts to achieve transformative progress on the SDGs.
"We must prioritise SDG implementation at all levels," he said, highlighting the need to align national policies and strategies with the goals of the 2030 Agenda and to strengthen partnerships with all stakeholders.
He urged development partners to deliver on their Addis Ababa Action Agenda commitments on development finance, and he urged international financial institutions to "embrace reform" and ensure that access to development financing takes into account the unique needs of vulnerable countries.
President Ramkalawan reaffirmed that addressing the climate crisis "is no longer an option; it is an immediate necessity" and reaffirmed Seychelles' dedication to renewable energy and energy efficiency.
Transition to green energy
In his address, President Hage G. Geingob of Namibia highlighted his country's efforts in transitioning to green energy, emphasising its green hydrogen projects and their potential to decarbonize hard-to-abate sectors.
He remarked on Namibia's intentions to create carbon-neutral maritime value chains for clean fuel and products through the development of green shipping corridors in collaboration with other key stakeholders.
President Geingob also mentioned the effects of COVID-19 and its lingering aftermath, which pushed a large number of people throughout the world into extreme poverty and exacerbated inequalities.
"The frightening disparity between the wealthy and the disadvantaged is not only a moral issue, but also a threat to global stability and harmony," he said. urging all nations to create a prosperous and inclusive environment where prosperity can be shared.
Things are not right
President of Ghana Nana Addo Dankwa Akufo-Addo stated that the theme of the General Assembly session, rebuilding trust and reigniting global solidarity, "recognises that things are not as they should be in our world."
"The trust between nations, which is necessary for peace, has diminished significantly," he said.
The Ghanaian President emphasised his country's conviction that the United Nations is the most effective means for the international community to address the complex challenges they face.
However, the Organisation can only function effectively and meet expectations if its fundamental pillars are reformed; "anything short of that will continue to undermine its credibility," he said.
Institutions need reform
Angolan President Joo Lourenco also emphasised the need for the United Nations to strengthen its role and capabilities in order to formulate the most suitable responses and thus be able to face the numerous challenges.
"It is imperative that we do everything in our power to continuously promote respect for and observance of the values enshrined in the UN Charter and international law," he said, "so that we can correct the perilous course the world has taken since the fall of the Berlin Wall."
President Lourenco remarked that developing nations lack adequate representation in global governance institutions and are therefore unable to contribute to the formulation of practical solutions to their problems.
"This situation generates anxiety and frustration among the most vulnerable populations, who, when their expectations are not met, become permeable to negative influences that threaten the order and stability of their respective nations," he said.
Commitment to democratic governance
President Julius Maada Bio of Sierra Leone highlighted his country's commitment to democratic governance and human rights, as well as the primacy of regional peace, particularly within the context of the West African subregion.
"Sierra Leone raises its voice alongside our ECOWAS community to express unequivocal opposition to any extra-constitutional changes of government," he stated, noting that such actions endanger not only individual nations but also the "cohesive fabric of the larger African identity."
The President's message for cooperation and collaboration transcended regional boundaries, calling for the restoration of global trust and solidarity.
Archbishop Desmond Tutu stated, "There comes a time when we must stop rescuing people from the river. President Bio urged world leaders to address the root causes of today's problems, stating, "We must go upstream and figure out why they are falling in."
"Our duty is clear: We must lift our people from poverty," he said.
Unity, resilience and ambition
The President of Liberia, George Manneh Weah, highlighted the numerous challenges the world faces today, including security, economic, social, political, and environmental issues.
He emphasised the importance of collective efforts to address the challenges and implement the 2030 Agenda, and he urged bilateral and multilateral collaborations.
Since his first address to the General Assembly five years ago, in which he informed the Assembly of the peaceful transition to democracy in his country, President Weah stated, "with your support and that of our friends, we have kept the flame of democracy burning."
"Liberia's journey is best captured by the spirit of unity, resiliency, and ambition," he added, urging the international community that "we can and must shape a world that upholds the rights and dignity of every individual through collaboration and shared purpose."