After winning the toss and electing to bat first, Sri Lanka could only manage 50 runs before being bowled out in 15.2 overs. With a 6-wicket haul, including four in the fourth over, Mohammed Siraj was the chief destroyer. India responded quickly, chasing down the target in 6.1 overs, and went on to win the final by 10 wickets.
Worst of the worst: The Asia Cup final set a number of "unwanted" records.
Published: 9/18/2023 5:42:36 AM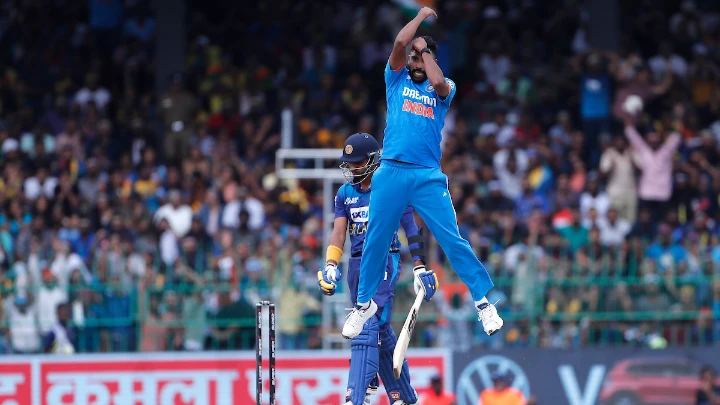 India won the Asia Cup 2023 on Sunday at the R. Premadasa Stadium in Colombo, defeating Sri Lanka by a margin of 10 wickets. India surprised Sri Lanka despite losing the toss because of Mohammed Siraj's extraordinary bowling performance.
Having won the toss and chosen to bat first, Sri Lanka was bowled out in 15.2 overs after scoring just 50 runs. Mohammed Siraj went on to take six wickets, including four in the fourth over, making him the main destroyer. India came through with lightning speed, reaching the target in 6.1 overs and winning by ten wickets in the end.
Here is a look at all the major records broken in the Asia Cup 2023 final between India and Sri Lanka.
Sri Lanka recorded the lowest-ever total in Asia Cup ODIs after being bundled out for 50 in 15.2 overs.
Sri Lanka's 50 is also its second-lowest total ever and the 10th-lowest total in ODI cricket.
India recorded its biggest win chasing (balls remaining) in ODI cricket, winning the match with 263 balls to spare.
Sri Lanka faced the second-lowest number of overs in an ODI when batting first and getting all out (15.2 overs).
This was the biggest victory in an ODI Final (in terms of balls remaining)
Mohammed Siraj equalled the fastest ODI five-wicket haul with a 16-ball five-for-record shared with Chaminda Vaas (v BAN, 2003).
Siraj became the second-fastest bowler to record 50 ODI wickets (1002 balls), behind Sri Lanka's Ajantha Mendis.
Siraj became the 11th Indian bowler to bag an ODI six-wicket haul.
India's run chase in 6.1 overs was the fifth-fastest in One-Day Internationals.
Siraj became the first Indian bowler, fourth overall, to bag four wickets in an over in ODIs.