Ayman and Munzereen share photos from the post-akhd celebrations
Published: 9/17/2023 6:16:30 AM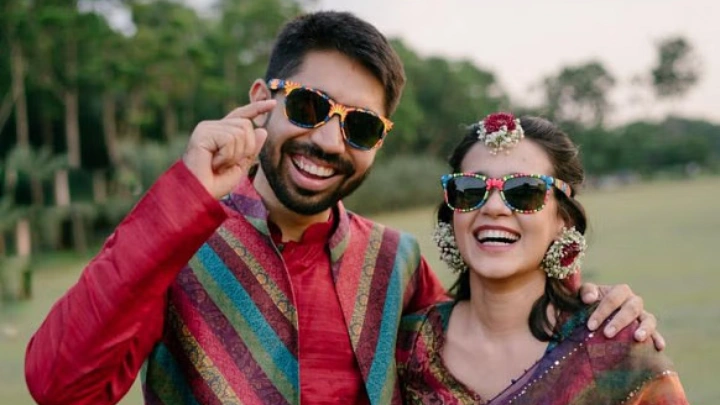 Ayman Sadiq and Munzereen Shahid, a celebrity influencer couple, have been making waves on the internet lately with their wedding announcements. The couple will officially tie the knot on September 15, 2023. As soon as we thought things couldn't get any better, the couple breaks the internet once more by sharing pictures of themselves from a post-akhd celebration.
The nikkah ceremony took place in a close-knit circle with subdued colors and tones that emanate serenity, but the vibrant pictures that were shared right away seemed to be painting their celebration with joy. The couple shared pictures from the event on social media, both wearing sunglasses with rickshaw art that matched their happy faces and were decorated with flowers and vibrant colors.
While Munzereen's post was about love and affection towards her husband, Ayman's caption hinted towards the beginning of a wave of festivities filled with laughter and colour!
Credit: From the Facebook page of Ayman Sadiq and Munzereen Shahid
Photo: Rasem Bappy, Ata M Adnan, Pulok Kumar, Md Imraan, Mqw Sajib, & Amit