Shilpa Shetty's denim saree is designed by Diksha Khanna.
Desi Twist On Denim Trend By Shilpa Shetty. A "Good Idea"?
Published: 9/12/2023 7:18:00 AM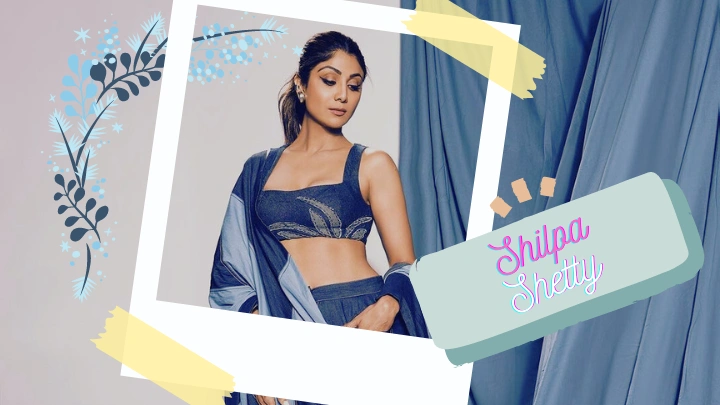 B-town fashion is currently dominated by the denim trend. Many celebrities have been stealing the show in recent months thanks to their denim-inspired fashions. Classic beauty Shilpa Shetty recently wore a denim saree to give this denim trend a desi twist. Strange, huh? Shilpa wore this stylish yet traditional OOTD to promote her upcoming film, Sukhee.
The amazing outfit was designed by Diksha Khanna, a well-known figure in denim fashion for her creative approach. Shilpa's saree had a midriff-baring blouse, a geometric print pallu with big squares, and a dark-hued skirt. Her hair was pulled back into an elegant ponytail. She selected silver earrings and rings as her accessories. Her attention-grabbing makeup included accentuated cheekbones, mascara-coated lashes, winged eyeliner, and well-defined eyebrows. She accessorized her all-denim ensemble with chic blue heels.


Shilpa Shetty's saree style always brings something unique to the table. Just a few days ago, she rocked a white saree with eye-catching red floral prints on the scalloped borders. Complementing the look, she wore a one-shoulder blouse with charming tie-up detailing at the back. Adding an extra pop of colour, Shilpa adorned her wrists with vibrant red bangles.
About a week ago, the India's Got Talent judge wore a stunning lehenga to the show's sets and impressed fashion critics. The Mayyur Girotra creation was a masterpiece of intricate embroidery. The lehenga skirt was fully covered in embroidery. She paired it with a cropped choli sporting above-elbow sleeves. Adding a touch of glamour, Shilpa adorned herself with two choker necklaces, elegant earrings, stacks of bracelets, a nosepin, and a striking statement ring.