Dengue infection: hospitalisation of patients highest in 10 districts
Published: 9/12/2023 4:57:45 AM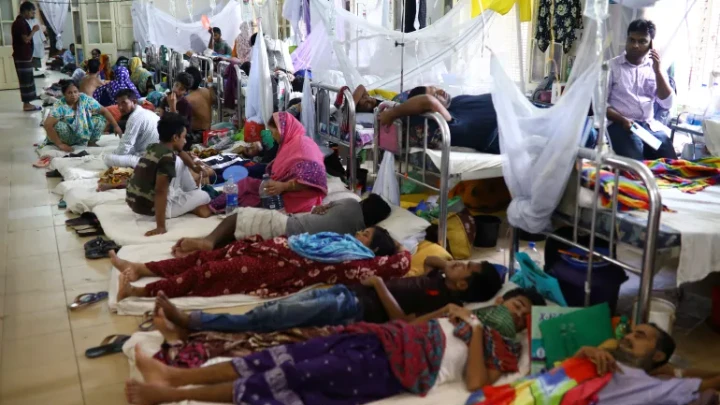 The total number of hospitalised dengue patients across the country crossed 1,51,000, with 2,944 fresh cases recorded till Monday. Ten districts have seen the highest number of hospitalisations, according to the Directorate General of Health Services (DGHS).
The DGHS published the Weekly Dengue Health Bulletin (Week 35) on Sunday by analysing the country's dengue situation between 3 and 9 September.
According to the bulletin, Dhaka, Chattogram, Barishal, Patuakhali, Lakshmipur, Pirojpur, Chandpur, Manikganj, Cumilla and Faridpur are the top dengue affected districts.
It also said the top 10 affected areas in Dhaka city are Jatrabari, Sabujbagh, Kadamtali, Mohammadpur, Khilgaon, Keraniganj, Cantonment, Uttara, Dhanmondi and Pallabi.
According to DGHS daily data, 11 more dengue patients have died in the 24 hours till Monday, taking the total death toll to 741 this year.
Of the 2,944 new cases, 967 were reported in Dhaka city and 1,977 were from various parts of the country.
A total of 9,816 dengue patients — 4,207 in Dhaka and 5,609 outside Dhaka — are currently receiving treatment at hospitals across the country.
Experts have emphasised mosquito killing and increasing medical facilities in areas where dengue patients are high.
Dr M Mushtuq Husain, an adviser to the Institute of Epidemiology, Disease Control and Research (IEDCR), told The Business Standard, "There is no dengue test facility at the upazila level outside Dhaka, and treatment facilities are not adequate. That is why people in rural areas work in the field, and go to the office or school without taking a break even if they have a fever. When their physical condition deteriorates, they come to Dhaka for better treatment, but by then it's often too late."
If there had been a dengue sample collection system at the upazila or district level as there was during the Covid pandemic period, then people could be sure of dengue infection by taking a test. More testing will increase the number of patients but decrease deaths, he said.
He said until now it was thought that only people in Dhaka or in big cities are being affected by dengue. There is a system to kill mosquitoes in the city, but there is no such opportunity in the rural areas. There should be a coordinated plan to kill mosquitoes.
"It is hard to predict how long the dengue situation will persist but it depends on the rains. Meteorologists, entomologists, public health experts and clinicians should take initiatives to control dengue. Then maybe the dengue situation will improve next year," Mushtuq Husain added.
Jahangirnagar University Zoology Department Professor and entomologist Kabirul Bashar told TBS that urbanisation is happening outside Dhaka. Dengue eradication activities are not available at the district-upazila level, due to which more patients can be seen in these districts. There is a risk that the dengue situation outside Dhaka could be worse than in Dhaka.
Before 2019, dengue was not so common outside Dhaka. But now it has spread to almost all districts, he added.
The DGHS said last week that the number of dengue patients had increased by 14% and deaths had increased by 21%.
Last week, 94 dengue patients died. Of them 59 (or 60%) died within a day of hospitalisation and 23 (or 23%) of patients died within two to three days of hospitalisation.
Bangladesh recorded 281 dengue deaths in 2022 and 179 deaths in 2019.