Films released on Eid-ul-Azha do better business than last eid
Shining BD Desk || Shining BD
Published: 7/21/2022 5:10:14 AM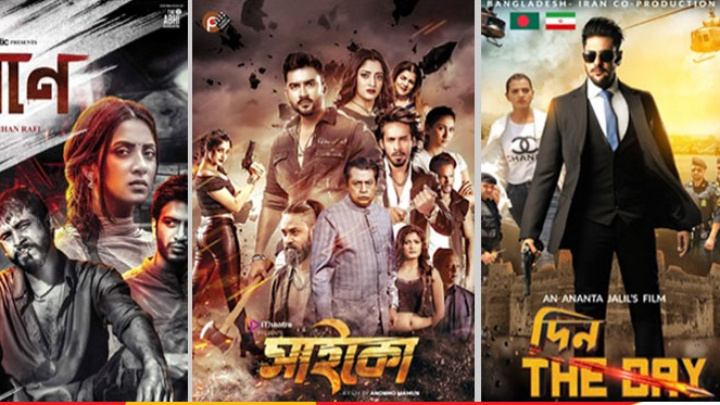 The films released on Eid-ul-Azha are doing better business than the ones released on Eid ul-Fitr this year, informed the authorities of both Star Cineplex and Blockbuster Cinemas.
Multiple shows are houseful, with the audience mostly watching the Bangla film "Poran" and "Din: The Day"
Siam Ahmed and Puja Chery starrer "Shaan" and Shakib Khan's "Golui" were released during Eid-ul-Fitr. Nevertheless, the reception of the new releases is better.
"Poran" features Sariful Islam Razz, Bidya Sinha Mim, and Yash Rohan in lead while "Din: The Day", directed by Iranian filmmaker Murtuza Atash Zamzam, stars Ananta Jalil and his wife Barsha. "Psycho" casts Ziaul Roshan and Puja Chery in lead.
"It is a positive sign that our local films are running successfully in the theatres. We now have arranged for 21 shows for "Poran" while eight shows of "Din: The Day" is currently running in Star Cineplex," informs Mesbah Uddin Ahmed, Senior Manager, Media & Marketing, Star Cineplex. "People of all ages are visiting the halls with their family, friends and loved ones. Seems like, Bangla cinema is bouncing back!"
Mahbubur Rahman, the manager of Blockbuster Cinema also said that Bangla films are doing better than that of last Eid's.
"The sales are at least 20 percent more than that of last Eid's collection. Evening and night shows are mostly houseful," he shared.
Anonno Mamun, the director of "Psycho", said that the film is doing better in the single-screen theatres while "Poran" is doing better in the multiplexes. "I have made this film for the common people and the audience, dripped in sweat, are collecting the tickets after standing in long queues for hours. That, for me, is success," he said.
The Daily Star