CEC seeks active role of polling agents in holding fair elections
Published: 8/28/2023 5:02:30 AM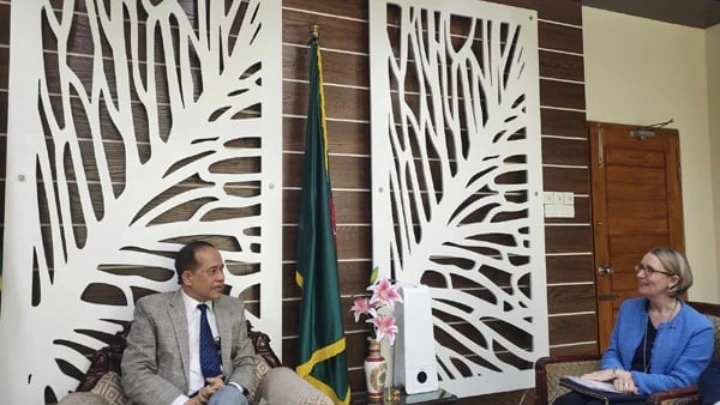 Chief Election Commissioner (CEC) Kazi Habibul Awal underscored the need for active role of polling agents in the upcoming elections, saying that their role is important for holding the elections in a free and fair manner.
"I have emphasized that the role of the polling agents is important for the elections to be free and fair," he told reporters after holding a one-and-half-an-hour meeting with British High Commissioner to Bangladesh Sarah Cooke at Nirbachan Bhaban in city's Agargaon.
Mentioning that Sarah Cooke talked about holding participatory and acceptable elections, he said that they will encourage the polling agents with positive vibes so that they could play their respective roles with courage.
"This will reduce the risk of irregularities in the polling stations," he added.
Pointing out that the role of the media in the election also came up in the discussion, he said, "The issue of the observer was also discussed."
"In this regard, we informed her (Sarah Cooke) that we are very focused on transparency. For this, I am expecting objective support from the observers and the media."
He hoped that media would act as a mirror during the coming elections.
Regarding guidelines of EC for media, CEC Kazi Habibul Awal said EC prohibited plying of motorcycle considering its misuse as there is a possibility of creating anarchy by musclemen.
"Similarly, the demand of the media is also logical as it will be difficult for them to cover election activities without motorcycle . . . That's why we said, it's under review. We will change the provision."
Mentioning that a 'constructive discussion' was held with CEC, Sarah Cooke told reporters, "We discussed the roles of independent and strong institutions and media, civil society and impartial observers."
"This is my first courtesy call with the Chief Election Commissioner. The discussion was constructive," she added.
During the meeting, Election Commissioner Md Anisur Rahman and EC Secretary Md Jahangir Alam were present.