Government's groundbreaking Ashrayan Project has put a smile on yet another face
Shining BD Desk || Shining BD
Published: 7/20/2022 5:53:31 AM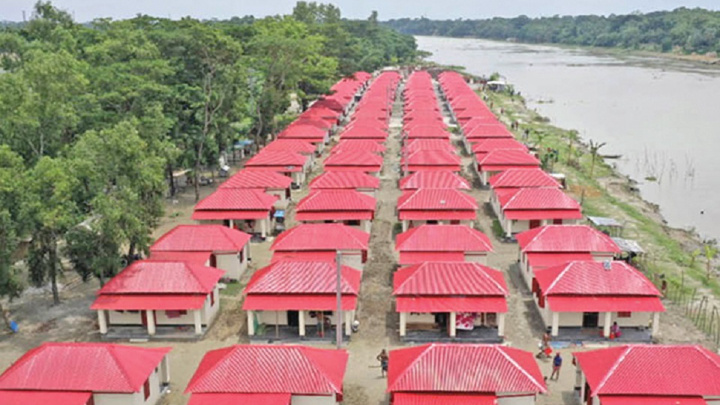 The government's groundbreaking Ashrayan Project has put a smile on yet another face - this time it is to Shefali Das, a homemaker from Rampal in Bagerhat.
Now in her 60s, Shefali, for the first time, can proudly flaunt the keys to a house of her own - the ultimate earthly possession for any homemaker - after she was selected as one of the recipients of the low-cost homes at the Gauramva Ashrayan Project in Rampal.
Describing her woes, the old woman said she was born in her landless father's house over 60 years ago. She also married a landless person. Even after 40 years of conjugal life, Shefali could never have a permanent address. Now, her long-cherished dream has come true under the second phase of the Ashrayan-3 project.
Both Shefali and her husband are naturally very pleased to be getting the well-equipped home as a gift from the prime minister. They plan to live there with their three daughters.
The Ashrayan Project in Rampal has been like a godsend for the many landless and homeless people in the district.
The stories of other recipients in Rampal are the same. Recipients include Beauty Sarkar, Taslima Begum, Sabera Begum, Phuljan Begum, Afroza Begum, Nirod Das, Ibrahim Hawladar, and Yunus Talukder, none of them can stop singing praises.
Shefali Das said: "I have spent my whole life at various places including the riverbank and beside roads. In my married life, our houses have been evicted and fallen victim to river erosion around 20-25 times. Many times, we have passed our days on the streets. Now we have a house. Prime Minister Sheikh Hasina has gifted the house to us."
She also thanked the prime minister.
Another beneficiary Sayera Begum said her husband is a hawker. They have two children. But they had no land and house. Her husband never bought any land, nor could he build a house due to his poor income. So, the prime minister has fulfilled their dream.
Hawlader Ibrahim, 60, a physically challenged man, said his whole life had been landless. Now he has a house at the Rampal project. He expressed his gratitude to PM Hasina.
Beauty Sarkar, Taslima Begum, Sabera Begum, Phuljan Begum, Afroza Begum, and Nirod Das similarly echoed Hawlader, and thanked Sheikh Hasina for giving them a permanent address and making their dream true.
According to the district administration, Gauramva Ashrayan Project in Rampal has been constructed on 6.2 acres of land for 85 landless and homeless families. Primarily, 45 families have been formally receiving the keys to their new properties from the prime minister.
As part of the government's campaign to bring all landless and homeless families under housing facilities in the birth centenary of Bangabandhu Sheikh Mujibur Rahman, Prime Minister Sheikh Hasina will hand over ownership documents to those first 45 families.
The virtual handover ceremony is set to be held on Thursday.
A total of 2,137 families in the district have got houses under Ashrayan Project in the Mujib Year.
Bagerhat deputy commissioner Mohammad Azizur Rahman said Gauramva Ashrayan Project has been constructed by evicting the encroachers on 6.2 acres of land.
The houses under the project have enough space including access to a pond, added DC Azizur.
Dhaka Tribune