Homes inundated, food crisis in shelters
Shining BD Desk || Shining BD
Published: 6/19/2022 10:12:09 PM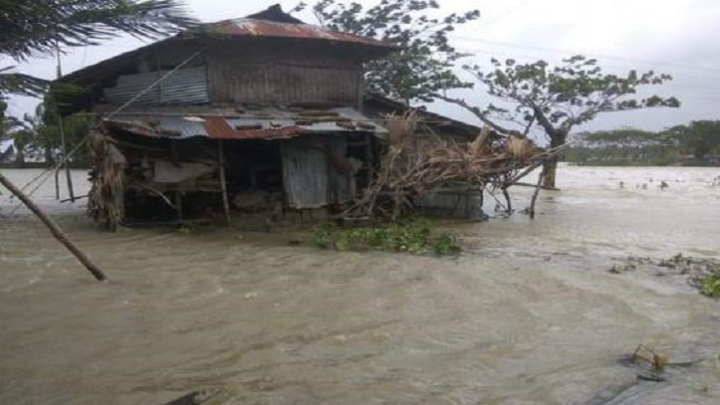 Siddikur Rahman, a resident of 'J' block in Shahjalal upashahar (satellite town) area of Sylhet city, came to the intersection, Upashahar Mor, along with his daughter and wife by a boat around 10:30 am on Saturday. They all were soaked in the rain.
"The situation was so extreme that I could not help but leave home. I have been forced to leave with my family. We will go to our village at Bahubal in Habiganj," a rain-soaked Siddikur said, describing his sufferings while unloading bags from the boat.
Almost all areas of the Sylhet city have been inundated due to the incessant downpour and the onrush of water coming from upstream. Some 24 new areas of the city submerged in floodwater within one and a half hours on Saturday. The areas, which were in a normal state at 11:30 am, were found in knee-deep water at 1:00pm while the water level at the previously inundated areas rose to waist-high level, in some cases, neck-high.
Against such a backdrop, the city dwellers were seen rushing to safe shelter. Some of them moved to their village homes in other districts while some others were seeking refuge in relatives' homes. In multi-storey buildings, residents of the ground floors were going up to the second and third floors. And those who have no option are running to the shelters.
Adding to the woe, the flood victims are suffering from a food crisis at the shelters in absence of government relief. Donations and their own savings are now their only hope.
Syed Emran along with his six family members took shelter at the Kishori Mohan Government Primary School in Mirabazar area of Sylhet city. He was seen entering the shelter with some packets in his hand at around 11:00 am on Saturday. He said they consumed all the dry food last night, but hadn't eaten anything since the following morning.
He had bought breakfast and lunch for his family with Tk 200 that he earned by from his a rickshaw van.
Syed Emran was lucky that he has been able to manage food for his family members with own earnings. But there are some other stories under the same roof where the victims have no option but to wait for relief.
Mansur Alo, a man in his 70's, has been in the same shelter with his family for the last two days as his residence and belongings are now under floodwater.
"We have been staying in this building for the last two days. My home with all valuables is now under water. All my savings have exhausted. We found shelter here, but have no food. We are surviving with the help of others," he said.
In another case, Mansur Miah and his four family members took shelter in the school building. They are residents of Mukit Miyar Colony in Jatarpur area of Sylhet city.
Mansur moved to Sylhet from his hometown Sunamganj for a livelihood. He, a rickshaw mechanic by profession, has been residing in the divisional city for the last 30 years. He along with his five family members came to the shelter on Thursday afternoon but was facing a severe food crisis here.
According to Sylhet City Corporation sources, a total of 30 shelters were opened in Sylhet city until Friday afternoon. The flood situation turned so acute that the corporation could not get information from the other newly opened shelters. People are rushing and taking shelter wherever they feel safe.
Residents of the multi-storey buildings are taking shelter at the upper floors as the ground floors have been inundated in floodwater. The stranded people are yet to be evacuated while the victims at shelters are yet to receive relief from the authorities.
Ruhul Amin, executive engineer of Sylhet City Corporation's electrical division (additional charge of shelter centres), told Prothom Alo he is not aware of the actual number of people taking refuge at the shelters as communication with these shelters has been snapped due to the worsened flood situation.
Some 30 tonnes of rice have been allocated from the authorities, but could not be collected yet due to the relentless rain. The distribution of food is yet to begin officially. However, people are helping in all ways they can while the public representatives are also coming forward with assistance, he added.
Visiting almost 20 areas of Sylhet city on Saturday morning, it was seen that almost all the areas and streets have been flooded. Of them, streets and houses in Shahjalal Upashahar, Sobhanighat, Mendibag, Nayorpul, Mirabazar, Tilagar, Sheikhghat, Taltola, Machu Dighir Par, Jamtola, Mirza Jangal, Bandar Bazar, Zindabazar and Dariapara areas have been inundated.
The Nayorpul-Sobhanighat road has been kept closed due to the strong current of floodwater. Quite a few stalled vehicles were seen stranded on the streets amidst floodwater.
The water level in Dariapara and Mirzajangal areas of the city started rising around 11.00 am. Later, floodwater entered several houses. The residents of those areas were seen leaving their houses and waiting on roads for vehicles to reach safer places.
Bhabotosh Pal, a resident of Dariapara area said his house has been flooded. He had made a tiny embankment with bricks and cement in front of his house on Friday to obstruct the water, but the water overflowed due to incessant downpour at around 11.00 am on Saturday. Now, there's knee-high water inside his home.
Jamil Ahmed, a resident of Shahjalal Upashahar area, was seen leaving his house on a rickshaw amidst the floodwater on Saturday morning.
He said, "I stayed inside the flooded house for three days. Now I have been compelled to leave as it is no more livable. I am shifting to a friend's house for the time being."
There was knee-high water in the Kadamtali bus stand area. An MC College-student, Raihanul Islam, was waiting there for a vehicle go to to Nabiganj of Habiganj district.
He said, "My mother is calling again and again from home. Water keeps rising in the city. I somehow managed to reach the bus terminal on a rickshaw amid waist-deep water paying a fare five times higher than normal."
Prothom Alo