Voting to Elect Next President of India Underway
Shining BD Desk || Shining BD
Published: 7/18/2022 6:57:12 AM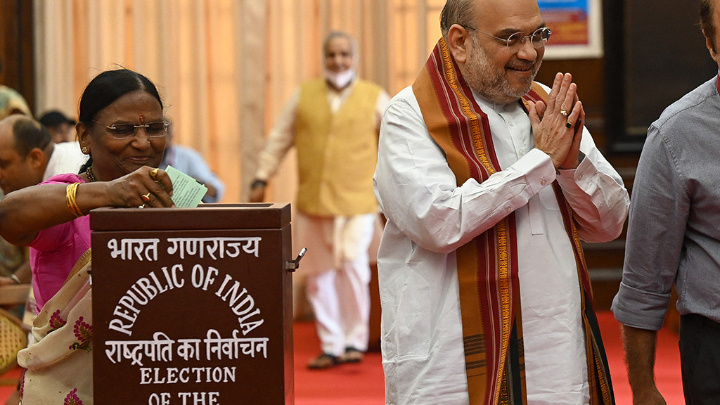 Voting is underway in India to elect a new President, in a high-octane contest where over 4,500 lawmakers across the country are eligible to exercise their franchise.
The front-runner is ruling Bharatiya Janata Party's candidate Droupadi Murmu, an indigenous politician and a former state governor. She is being challenged by opposition candidate Yashwant Sinha, a former Finance Minister.
In India, the President is elected not directly by the people but by the members of both Houses of Parliament -- the Rajya Sabha and the Lok Sabha -- and state assemblies and federal government-ruled Territories.
Like in Bangladesh, the Indian President is the ceremonial head of state who does not exercise executive powers.
The counting of votes will be held on July 21 and India's 15th President will take oath of office on July 25, replacing incumbent head of state Ram Nath Kovind, according to the Election Commission of India.
Murmu, a former teacher hailing from the eastern state of Odisha, is projected to win as President, with Prime Minister Narendra Modi's ruling party and its coalition partners commanding over 48% of the electoral vote.
If elected, the 64-year-old will be youngest and first tribal President of India.
Who's Murmu?
Born in independent India on June 20 in 1958, Murmu completed her graduation in 1979 and began her career as a government employee before becoming a school teacher.
She subsequently made a foray into the eastern Indian state of Odisha's politics, first as a local civic body councilor and then as a legislator.
The two-term legislator went on to become a minister in the state government in 2000. And some 15 years later, Murmu was sworn in as the first woman Governor of the eastern state of Jharkhand.
In her personal life, Murmu lost her husband and their two sons. While her husband died of a cardiac arrest, one of her two sons was found dead under mysterious circumstances in 2009. She has a daughter.
Dhaka Tribune