Several bus services in Comilla overcharge passengers after Eid holidays
Shining BD Desk || Shining BD
Published: 7/17/2022 8:36:46 AM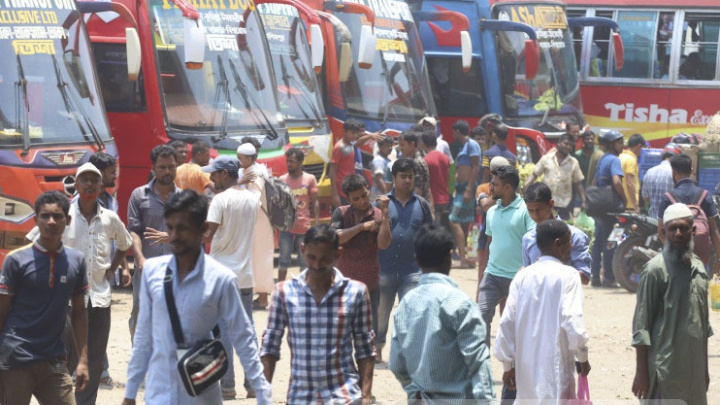 Several bus services in Comilla are overcharging passengers who are returning to Dhaka after the Eid holidays.
A Tk180 ticket was being sold to people at Tk 230, depending on the crowd present at the counters.
Passengers reported that the counter managers are taking Tk50 extra from them despite the prices being mentioned on the tickets.
Some were even seen writing "23" on the tickets with pens, leaving the zero out of 230, to let people and district administration believe the ticket was actually sold at Tk180.
On Sunday morning, more than 30 passengers were seen standing in line for "Tisha Paribahan", at Padua Bazar Bishwaroad area near the Dhaka-Chittagong Highway.
Many of them reported the same situation, saying bus operators are taking advantage of the crowd.
Saiful Islam, a businessman from the capital's Motijheel area said he came to Comilla from Chandpur as they did not get a direct bus to Dhaka.
"I stood in line for half an hour to get the ticket. The fare written on the ticket is Tk180 taka, but they took Tk230 from me. This is unfair," he told Dhaka Tribune.
Abdul Jalil from Lalmai upazila of the district left for Dhaka with his family members on Saturday.
After being charged Tk920 for four seats, he asked why the bus service was charging an extra Tk200. The counter manager said this was due to the Eid holiday.
In this regard, Bimal Chand Dey, director of Tisha Plus counter: "Our return buses from Dhaka are always almost empty. If we continue to take Tk180 from passengers, our business will suffer."
Asadul Islam, assistant director of the Directorate of National Consumers' Right Protection said: "We are keeping an eye on the matter. We haven't received any complaints yet."
He added that: "If a complaint is filed, 25% percent of the fine from the bus service will be paid to the complainant."
Dhaka Tribune