Sudanese military ends ceasefire talks, launches attacks on paramilitary bases
Published: 6/1/2023 6:39:21 AM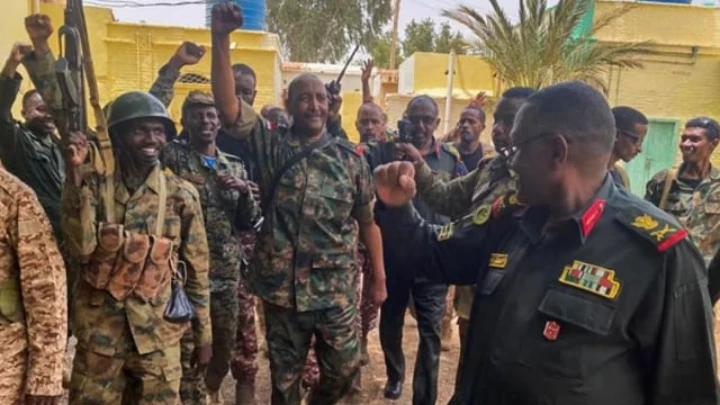 After leaving ceasefire negotiations mediated by the US and Saudi Arabia on Wednesday, Sudanese army forces fired artillery rounds at paramilitary bases in Khartoum, accusing their adversaries of breaking their promises.
The truce was supposed to allow for safe passageways for the delivery of aid to a population that is becoming more and more in need of it, but mediators have accused both sides of breaking it.
Residents told AFP that troops loyal to army chief Abdel Fattah al-Burhan attacked important bases of commander Mohamed Hamdan Daglo's Rapid Support Forces in both the north and south of the capital.
One eyewitness reported "heavy artillery fire from army camps" in northern Khartoum on the 47th day of a conflict that 1,800 people, according to researchers, have died in.
Another claim was that there had been "artillery blasts on the RSF camp in al-Salha" in southern Khartoum, which is home to the city's biggest paramilitary base and arsenal.
The attacks took place two days after American and Saudi mediators announced that the warring parties had agreed to extend the initial week-long humanitarian ceasefire by five days.
The Saudi city of Jeddah serves as the venue for the negotiations. The mediators have acknowledged numerous violations but have refrained from taking any action.
"Fight until you win"
An unnamed Sudanese government official who was not authorized to speak to the media said that the army left "because the rebels have never implemented a single one of the provisions of a short-term ceasefire which required their withdrawal from hospitals and residential buildings".
Although the truce had been "inadequately observed," the extension would "permit further humanitarian efforts," according to the mediators.
Fighting has broken out this week in western Darfur and greater Khartoum despite repeated promises from both sides.
During a visit to the troops in the capital, Burhan stated, "The army is prepared to fight until victory."
The RSF, under the leadership of Burhan's former deputy and adversary Daglo, declared they would "exercise their right to defend themselves" and charged the army with breaking the cease-fire.
Aly Verjee, an expert on Sudan, said the mediators had been anxious to prevent a total breakdown of the negotiations because they feared a significant escalation on the ground.
Prior to the army's withdrawal from the negotiations, Verjee, a researcher at Sweden's University of Gothenburg, stated that the mediators "know that the situation is bad" but were hoping for "arrangements that are better respected."
Snipers and airstrikes
The mediators claimed on Sunday that both sides had hampered humanitarian efforts, including by stationing snipers close to hospitals in RSF-controlled territory and having army "elements" steal medical supplies.
They claimed that while Burhan's forces routinely flew military aircraft during the ceasefire, "including a confirmed airstrike" that allegedly resulted in the deaths of two people, RSF occupied "civilian homes, private businesses, and public buildings", some of which were looted.
The suspension of the negotiations should "not discourage" mediation efforts, according to African Union spokesman Mohamed El Hacen Lebatt, who spoke to AFP.
Following Burhan's call for Volker Perthes to be fired as the UN's representative to Sudan, Antonio Guterres reiterated his support for Perthes on Wednesday.
"It is up to the Security Council to determine whether it supports the continuation of the Mission for another period or whether it decides that it is time to end it," he continued.
Following a meeting with the East African bloc IGAD and other representatives, he declared that a proposal for extensive talks involving all Sudanese would be made as soon as possible.
According to the Armed Conflict Location and Event Data Project, since fighting started on April 15, more than 1,800 people have died.
According to the UN, over 425,000 people have emigrated to nearby countries, and 1.2 million people have been internally displaced.
Yaqout Abderrahim fled Khartoum for Port Sudan, where she has been waiting for a flight out for 15 days in hopes of securing a rare seat.
Among the families camped out on the ground, she told AFP, "We want to leave at any cost because our houses are destroyed and we no longer have any means to raise our children."
According to the UN, 25 million people, or more than half the population, are currently in need of assistance and protection.
Three-quarters of hospitals in combat zones are inoperable, and entire districts of Khartoum no longer have access to running water or electricity.
According to the health ministry, "nine health facilities" have been rendered inoperable in Jazira state, which is located immediately south of Khartoum, "despite the declared truce," on Wednesday.
The "presence of RSF militias threatening the movement of medical staff and supplies" was to blame, it said.
In Darfur, on Sudan's western border with Chad, hundreds of people have died as a result of ongoing fighting that "blatantly disregards ceasefire commitments," according to Toby Harward of the UN refugee agency.
Strongman Omar al-Bashir unleashed the Janjaweed militia, from which the RSF are descended, in response to a rebel uprising in Darfur in 2003, starting a war that lasted for years and from which the region has never fully recovered.
According to experts, Burhan is under increasing pressure from his own Islamist backers and the survivors of the Bashir regime, with whom he had formed a mutually beneficial alliance in order to seize power.