Erdogan and Hasina have committed to elevating ties between their respective countries, Dhaka and Ankara.
Published: 6/1/2023 5:39:30 AM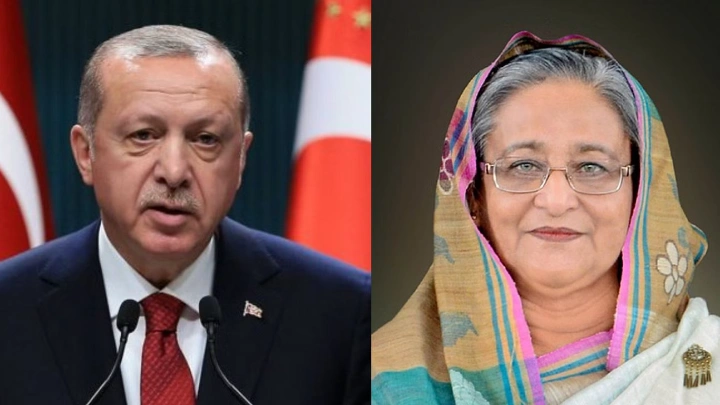 Recep Tayyip Erdogan, president of Turkey, has reaffirmed his commitment to working with Bangladeshi Prime Minister Sheikh Hasina to elevate the two countries' already-promising bilateral relations.
This was said by the newly-elected Turkish president to PM Hasina over the phone yesterday around 11:15 p.m.

A statement from PMO Press Wing stated that the two leaders greeted one another and spoke for 10 minutes.
Hasina congratulated Erdogan on his victory in the second round of voting, where more than 86 percent of eligible voters cast ballots.
PM Hasina reaffirmed that the people of Bangladesh would continue to be steadfast in their support of the amiable people of Turkey in times of need, such as during the earthquake in February 2023.
President Erdogan expressed his appreciation for the Bangladeshi people joining the jubilant Turkish people in celebrating his victory in the run-off election.
In order to achieve this, he expressed gratitude to the people of Bangladesh and wished to further solidify the bonds between the two peoples.
Hasina wished Erdogan and his family continued peace, progress, and prosperity on behalf of the Turkish people. She also sent her best wishes to Erdogan and his family.