IIFA 2023: Esha Gupta Shines In A Black Cutout Dress
Published: 5/31/2023 8:39:17 AM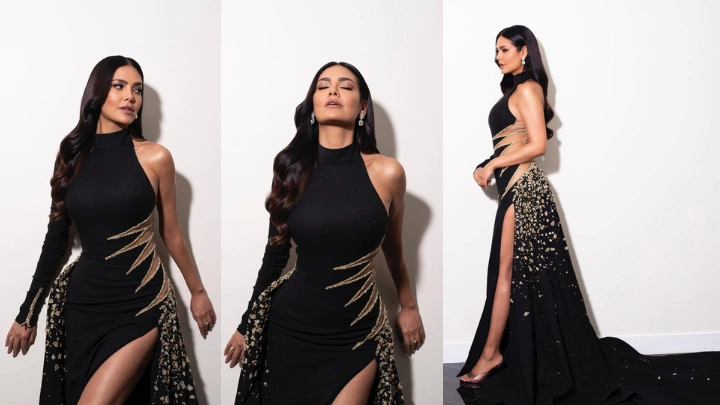 Esha Gupta's sartorial prowess is quite exceptional, and her fans and supporters are well aware of it. She always manages to exude a magical charm, whether she is at the most prestigious events or is simply going out on the town, and this time she managed to look just as fantastic when she arrived at the IIFA Awards 2023.

Esha enjoys establishing new standards for fashion enthusiasts, and in this instance she succeeded admirably in a captivating body-hugging backless dress. She had the ideal balance of sexiness and oomph in her appearance. Her flawlessly curated silhouette was a cosmic black dress by Tony Ward Couture with sparkling accents that genuinely resembled stars in the night sky. Esha's outfit, which was designed with the utmost glam by Victor Blanc, exuded ultra-glam vibes with a backless style and glitzy strings attached to the front that created a lovely zig-zag pattern. Her one-shoulder dress added an extreme edge to her look with a thigh-high slit and a long train at the back.
Esha Gupta enjoys occasionally turning up the glitz. The actress made sure to maintain her sense of style as she arrived at the IIFA Awards 2023, and my goodness, it was a seriously blingy entry after making an impressive debut at Cannes. Esha certainly made a case for glitz in the slinkiest dress in a stunning Stella Mccartney ensemble. Every time she shows up looking like a million bucks, her glamour pose only gets better. Her understated glamour frequently commands attention; this time, it was her strappy silver dress. Esha polished off her appearance with stylish rings and earrings.