Five killed by Ukrainian shelling; refinery fire started by drone, say Russian officials.
Published: 5/31/2023 8:33:48 AM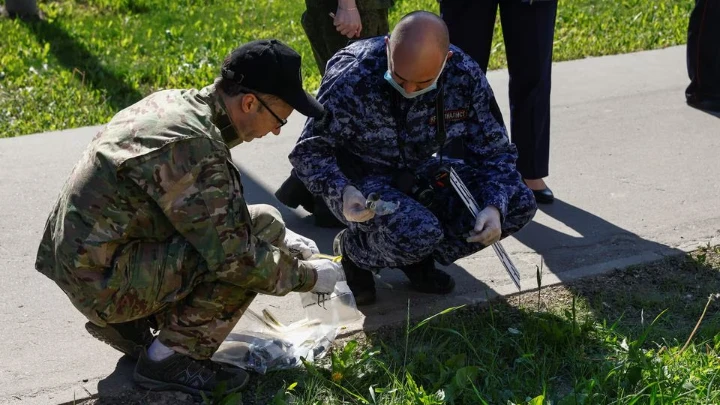 Five people were killed by Ukrainian shelling in a village in the Luhansk region of eastern Ukraine on Wednesday, according to officials installed in Moscow, while a drone attack set an oil refinery in southern Russia on fire.
For the third time in a week, Ukrainian artillery also struck a Russian town close to the border, Russian officials reported, causing damage to homes and vehicles as well as injuring four people.
Russian-installed officials in Luhansk claimed that five people were killed and 19 were injured when Ukrainian forces used HIMARS rocket launchers made in the United States to attack a farm in Karpaty village overnight, a day after the Kremlin accused Kyiv of using drones to attack structures in Moscow.
Nearly the entire Luhansk region in eastern Ukraine is under Russian control.
Approximately 7 km (4.5 miles) north of the border with the Ukrainian region of Kharkiv, the Russian town of Shebekino was also struck by Ukrainian artillery, according to regional governor Vyacheslav Gladkov on the messaging service Telegram.
According to him, two people were taken to the hospital, and shells destroyed the roofs, windows, and four homes, a school, as well as an eight-story apartment building.
The reports could not be independently verified by Reuters. Both sides deny targeting civilians, and Ukraine made no immediate comment.
A drone, according to the governor of southern Russia's Krasnodar region, is most likely what started a fire at the Afipsky oil refinery.
Governor Veniamin Kondratyev announced on Telegram that the fire was put out with no casualties. The Novorossiisk port on the Black Sea is not far from the Afipsky refinery, which is also close to another refinery that has been attacked numerous times this month.
There was no immediate word on who launched the drone, but Russia has repeatedly bombarded Ukrainian cities with drones and missiles while Moscow has accused Kyiv of increasing its attacks inside of Russia in recent weeks.
After waves of attacks over the previous 24 hours, the skies over Ukraine were comparatively quiet on Tuesday night, with no significant air raids being reported. According to Ukrainian officials, Russian drone strikes on Kyiv on Tuesday resulted in one death and four injuries.
Russian forces have been occupying territory in Ukraine since their full-scale invasion in February 2022, and Ukraine is preparing a counter-offensive in an effort to drive Russian forces out of that territory. The attacks in Russia coincide with that preparation.
Attacks in Russia or on Ukrainian territory under Russian control are rarely acknowledged publicly by Ukraine.
DRONE WAR

In what one politician called the most dangerous attack on the capital since World War Two, Ukrainian drones reportedly struck affluent Moscow neighborhoods on Tuesday, according to Russia. Also, Kyiv received an aerial attack for the third time in 24 hours.
Both sides have increased their airstrikes as the situation on the ground remains stalemate-like with Russian forces stationed along a long line in the east and south of Ukraine.
Although Baza, a Telegram channel with connections to the security services, claimed there were more than 25, the Russian defense ministry reported that eight drones sent to Moscow by Ukraine and targeting civilians were shot down or diverted with electronic jammers.
Ukrainian presidential aide Mykhailo Podolyak denied that Kyiv was directly involved but added that "we are pleased to watch events" and predicted more such attacks.
The mayor of Moscow reported that two people were hurt while some apartment buildings were briefly evacuated. Residents reported hearing loud bangs and then smelling gasoline. A drone being shot down and a smoke plume were captured on camera.
The most elite neighborhoods in Moscow, including those where Russian President Vladimir Putin and other members of the ruling class reside, were the targets of the drone attacks.
The largest drone attack by Ukraine on Moscow, according to Putin, was an effort to terrify and provoke Russia, and the air defenses surrounding the capital would be strengthened.
Since the beginning of the war, Russian drones and missiles have repeatedly attacked civilian targets in Kyiv and other Ukrainian cities.
The only other time Moscow had experienced direct fire was on Tuesday.
In response to reports of drone strikes in Moscow, the White House stated that it was gathering information.
"We oppose attacks against Russian citizens. I'm done now. Karine Jean-Pierre, the press secretary for the White House, said this during a briefing.
On the condition that Ukraine uses the weapons for self-defense and to retake Ukrainian territory taken by Russian forces, Washington is a major supplier of arms to that country.
The Russian ambassador to the US claimed that by openly downplaying the drone attack, Washington was encouraging "terrorists" in Kyiv.
The Zaporizhzhia nuclear power plant is one of the southern locations that Russian forces have controlled since shortly after their invasion, and on Tuesday the head of the U.N. nuclear watchdog asked Ukraine and Russia to respect five principles to protect it.
The head of the International Atomic Energy Agency, Rafael Grossi, urged against attacking or using the largest nuclear power plant in Europe as a base for heavy weapons and other military hardware.