Chinese envoy calls PM's decision over Padma Bridge extra-courageous
Shining BD Desk || Shining BD
Published: 6/20/2022 6:24:23 AM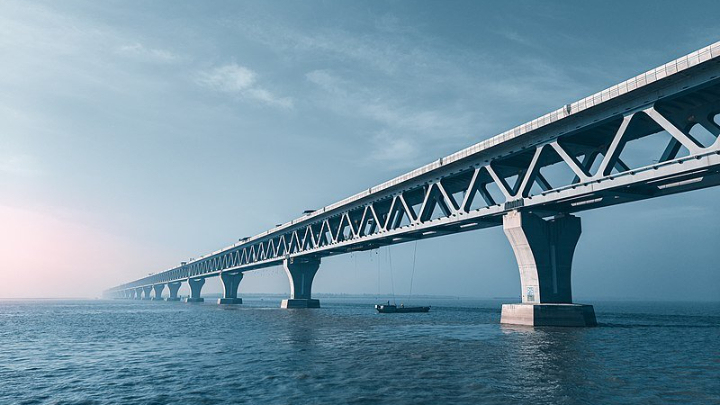 Chinese Ambassador in Dhaka Li Jiming has called extra-courageous Prime Minister Shekh Hasina's decision to go ahead with Padma Bridge project with domestic financing amid overseas funding debacle, expressing his doubts if an average leader of any country could have done so.
"I doubt, if any average leader of any country could have made such a tough decision as she did, I doubt, I really doubt," he told to a group of select journalists at the Chinese embassy here on Sunday.
The envoy said some overseas development partners did not believe that Bangladesh government could ever materialize such a mega structure with own financing, without naming them.
"Nevertheless, Prime Minister Sheikh Hasina, steeled herself for all the doubts, pressures and allegations", and decided to build the bridge with Bangladesh's "own money, 100 percent Bangladesh's own money," he said.
The envoy said the decision required "tremendous courage and a strong sense of political responsibility" on the part of any head of the government.
Li Jiming added: "Whenever I think of the bridge, 3 words come to my mind: courage, determination and prosperity."
The envoy said under the Bangladesh premier's leadership the bridge emerged as a solid reality growing from a vision and from now on "nobody will ever doubt that Bangladesh cannot do it".
Li Jiming, however, also took pride for his country's stake in the project since a Chinese company was involved in constructing the bridge saying so far this was the largest bridge that Chinese companies had ever constructed outside China.
"So, I think accepting the challenge was also a courageous step taken by the Chinese side," he said.
Asked what message Bangladesh carried abroad by building the structure without foreign financing, the envoy said "lesson has been learnt (that) you should trust Bangladesh people".
"This lesson can get them better perform in Bangladesh market (in future)," he said in an apparent reference to the World Bank.
Replying to a question the envoy said he did not want to view the lending agency's decision to withdraw from the project as the fallout of any conspiracy.
Rather, he said, it was a "lack of confidence towards Bangladesh people, lack of confidence towards Bangladesh government".
But, the envoy's Beijing had full confidence on Bangladesh government in view of its past financial operations.
"We know that if you (Bangladesh) say you are doing (it) with your own money, you can do it . . . we trust that and we are correct, right?" he said.
The envoy said somebody might not like to see Bangladesh's historic achievement over the bridge saying "not everybody is happy but Chinese people (are)".
Replying a question regarding a perception that the Padma Bridge was built in line with China-led Belt and Road Initiative (BRI), the ambassador said it was unfortunate that the BRI was misinterpreted in many countries.
The ambassador said the Padma Bridge would serve as the missing link of the Trans Asian Railway and Asian Highway network.
"With the bridge in use, a more integrated Bangladesh will surely contribute to a more integrated and prosperous South Asia and beyond," he added.
Li said in fact, the Padma Bridge would not merely connect two pieces of land, rather it would also connect "our two peoples by heart, leading the way to common prosperity and share future".
The envoy said he felt particularly proud of, not only because the bridge is built by a Chinese company, but also because it would remain as a milestone of China-Bangladesh cooperation.
"I believe that after the bridge is open to traffic, it will benefit the people of Bangladesh, it will contribute to the connectivity of South Asia, and it will serve as an everlasting bond of brotherhood between China and Bangladesh," he said.
The country's longest ever 6.15-km Padma Bridge was constructed with domestic financing, discarding foreign loans or grant of any type while the finance ministry provided Bangladesh Bridge Authority an amount of Taka 30,000 crore as credit.
BSS