Downing Street confirms Sunak and Biden's upcoming meeting in Washington.
Published: 5/31/2023 4:55:44 AM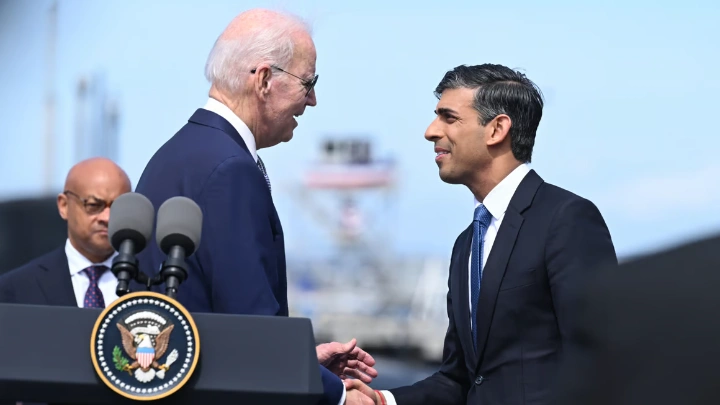 Next week, US President Joe Biden will hold talks with UK Prime Minister Rishi Sunak in Washington, according to a Downing Street announcement.
When Sunak visited San Diego in March to launch a nuclear submarine agreement with Australia, Biden extended an invitation for him to stay at the White House.
The two will discuss furthering their cooperation on economic issues like supply chain security and the transition to a net zero economy at their meeting next week.
Sunak's official spokesman told reporters in London: "It will also be an opportunity to discuss issues, including maintaining our support for Ukraine."
Since Russia's invasion of Ukraine last year, Sunak has continued Boris Johnson's steadfast support for Kyiv by announcing the supply of long-range missiles.
Following that, Biden supported giving Ukraine modern F-16 fighter jets at the most recent G7 leaders' summit in Japan.
The ongoing dispute over a free-trade agreement between the two nations, which London views as a crucial accomplishment since leaving the EU, will cast a shadow over the negotiations.
According to Sunak's spokesman, that was not on the schedule. The UK has already ratified trade pacts with Indiana, South Carolina, and North Carolina.
Additionally, it is in talks with Utah and Oklahoma and seeking closer trading ties with Texas and California, two economic powerhouses in the US.
Sunak last spoke with Biden prior to the G7 when the US president paid a visit to Northern Ireland to commemorate the 1998 peace accord's 25th anniversary.
The hard-won peace in Northern Ireland may be threatened by the UK's position on post-Brexit trading rules, according to Biden, who also warned that it could be.
Sunak, who welcomed Jill Biden's wife to a Downing Street coronation tea party, is anticipated to join the US president at the NATO leaders summit in July.