Dhaka and Beijing discuss the Rohingya repatriation effort
Published: 5/30/2023 5:30:16 AM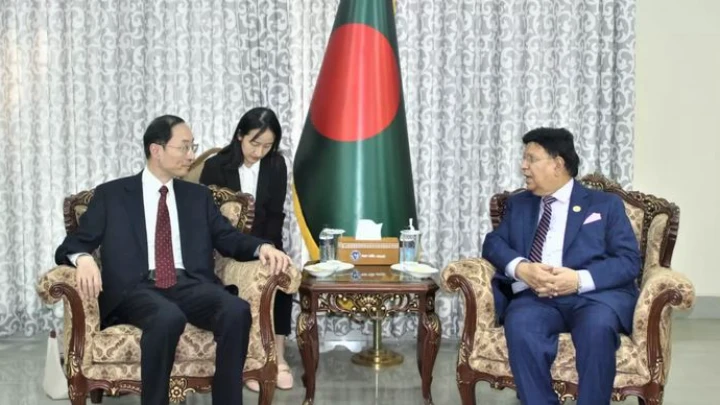 On Sunday, Bangladesh and China reviewed the ongoing initiatives for the peaceful and quick return of the Rohingya to their homeland in Myanmar.
Foreign Minister AK Abdul Momen thanked China for its sincere efforts to ensure the swift and safe return of the internally displaced people.
Momen and Sun Weidon, vice foreign minister of China, concurred that the issue required immediate attention because, if left unattended for any longer, it might develop into a real threat to regional security and stability.
The Chinese vice foreign minister praised Bangladesh's remarkable socioeconomic transformation under the inspirational leadership of Prime Minister Sheikh Hasina during his meeting with Momen.

Momen was extremely grateful for China's significant contributions to Bangladesh's development.
He exclaimed his admiration for the strong bilateral ties that existed between the two friendly nations and expressed hope that they would continue to grow in the days to come.
Momen commended Sun for holding the bilateral consultations on May 27 in Dhaka with success.
Foreign Minister Momen referred to the 1950 visit to China by the Father of the Nation Bangabandhu Sheikh Mujibur Rahman and the book he wrote about his experiences there in noting the strong cultural, historical, and civilizational ties between the two nations.
Sun, who also expressed his admiration for the magnificent Padma Multipurpose Bridge, noted that the building stands out as a new emblem of the friendship between Bangladesh and China and said that the two nations could work wonders if their synergies were stronger and more effective.
For the benefit of both nations, Momen invited and encouraged a greater flow of Chinese FDI into Bangladesh.
He spoke of his brief meeting with the Chinese Foreign Minister in Dhaka in January of this year and expressed his profound gratitude for China's assistance during the Covid-19 pandemic.
He expressed his hope that all necessary steps would be taken in order for Bangladesh to benefit the most from the facility of duty-free and quota-free access to 98% of Bangladeshi products in China.
Additionally, he emphasized the need for the projects that had been agreed upon during the previous visit of Chinese President Xi Jinping to Bangladesh to be swiftly implemented.
Sun praised Bangladesh's vibrant youth generation for its capacity to significantly alter the country's society and economy.
He made reference to the Belt and Road Initiative's 10th anniversary and expressed the hope that Bangladesh would benefit to the fullest from this ambitious plan.