OIC Secretary General Hissein Brahim Taha visits Rohingya camps in Cox's Bazar
Published: 5/30/2023 4:48:26 AM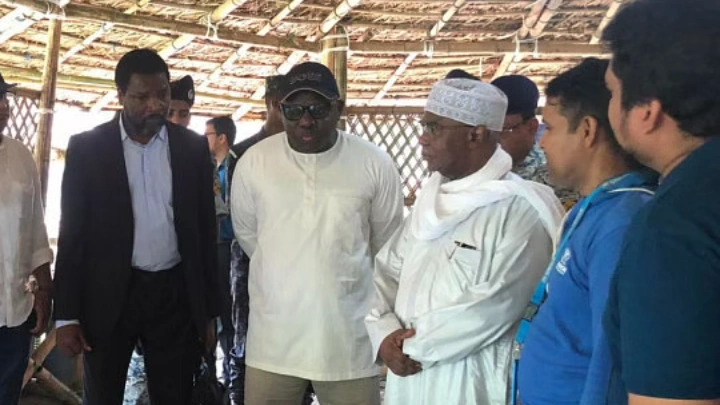 Hissein Brahim Taha, secretary general of the Organisation of Islamic Cooperation (OIC), visited several Rohingya camps in Ukhiya, Cox's Bazar, on Monday.
On Monday morning, he flew to Cox's Bazar and then traveled to Kutupalong Four Extension Camp in Ukhiya. Later, he visited a number of additional camps in Ukhiya.
The OIC Secretary General met with representatives of the Refugee Affairs Commission, Rohingya representatives, and representatives from various NGOs and INGOs in the camps.
Md Shamsud Douza, Additional Commissioner for Refugee Relief and Repatriation (Deputy Secretary), stated that the OIC Secretary General exchanged views with Rohingyas and discussed their problems.
In addition, he visited the BRAC youth center, the tree-planting program, and the activities of other organizations.
He eventually returned to Dhaka.
On Sunday, he urged the member states to do more and provide the Gambia with funding to pursue the Rohingya genocide case before the International Court of Justice.
"We call on all OIC member states to join them in this case and to contribute to this OIC-established fund." After meeting with Foreign Minister Dr. AK Abdul Momen on Sunday (28 May 2023), the OIC Secretary General stated to reporters that this case is a top priority.
Recently, Prime Minister Sheikh Hasina, the Secretary General of the Organization of Islamic Cooperation, and the President of Gambia sent a letter to the member states requesting support for the OIC-established fund.
The head of the Organization of Islamic Cooperation also praised Bangladesh's efforts to host Rohingya people despite numerous obstacles in Cox's Bazar.