Youth-targeted tobacco advertising will be banned in Switzerland.
Published: 5/25/2023 5:11:42 AM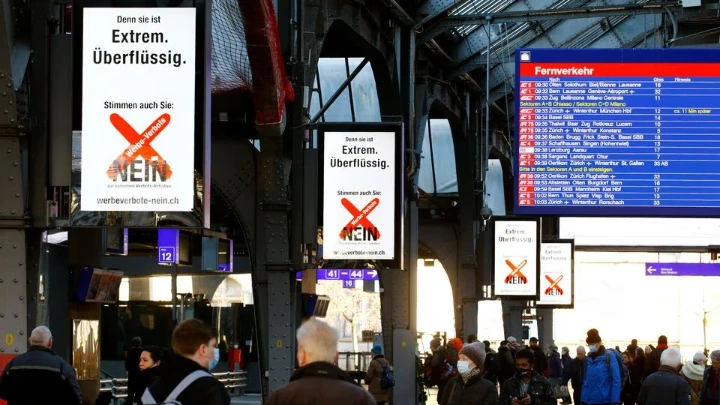 Displays read "Because it is: Extreme. Superfluous. Vote no to the extreme advertising ban initiative" before an upcoming vote to decide on the ban of tobacco advertising, at the central railway station in Zurich, Switzerland February 10, 2022. REUTERS/Arnd Wiegmann
In order to carry out a decision made in a referendum last year, Switzerland will outlaw advertising for tobacco products and e-cigarettes that targets young people, the government announced on Wednesday.
The cabinet announced that it would tighten the already-planned regulations banning advertising from venues and media that target children and teenagers.
The new laws, which will go into effect in the middle of 2026, will strengthen the prohibitions on tobacco and e-cigarette packaging and advertising that will go into effect the following year.
The action, which will have an impact on print media, online advertising, and festivals, is intended to lower tobacco use and the deaths that result from it.
As one of the biggest public health issues in the nation, smoking is still relatively common in Switzerland, where 9,500 people die prematurely each year as a result of tobacco use, according to the government.
According to the government, the annual cost of treating non-communicable diseases brought on by tobacco use is 3 billion Swiss francs ($3.37 billion).
"Tobacco advertising plays a significant role in the decision to start smoking," it was added.
According to the government, 5.7% of youths aged 15 to 24 use electronic cigarettes at least once per month, while 6.9% of Swiss children aged 11 to 15 had smoked cigarettes in the previous 30 days.
In the future, no tobacco product or e-cigarette advertising will be permitted in print media, stores, or events that are open to minors.
Additionally, sponsorship of events that attract minors will be prohibited. As long as age restriction measures are in place, online advertising will still be allowed.
Following the success of the referendum "Yes to the protection of children and youth from tobacco advertising," which was ratified by 57% of Swiss voters in February 2022, stricter regulations have been put in place.
$1 is equal to 0.8889 Swiss francs.