Figure, an AI startup, raises $70 million to create humanoid robots.
Published: 5/25/2023 4:58:00 AM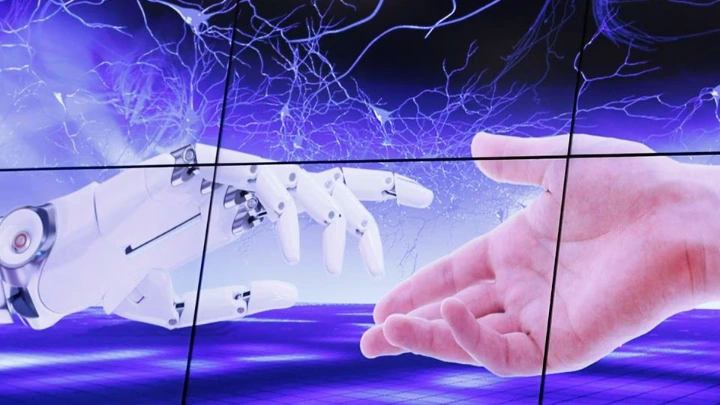 An illustration projected on a screen shows a robot hand and a human one moving towards each others during the "AI for Good" Global Summit at the International Telecommunication Union (ITU) in Geneva, Switzerland, June 7, 2017. REUTERS/Denis Balibouse
The startup Figure, which aims to create general-purpose humanoid robots, announced on Wednesday that it had raised $70 million in its first external round from investors led by Parkway Venture Capital.
The new funding will be used to quicken the company's first autonomous humanoid's development and production, which is anticipated to go on sale in the coming months. The value of the one-year-old business was not made public, but a source familiar with the operation estimated it to be over $400 million.
Figure's founder and CEO, Brett Adcock, personally contributed $20 million to the round. Bold Ventures and Aliya Capital are two additional investors.
The Sunnyvale, California-based company Figure creates all-purpose humanoid robots that can perform a range of tasks in a variety of settings, including retail and warehouses. According to the company, it is in talks with retailers about potential commercialization opportunities.
According to Adcock, a former founder of Archer Aviation (ACHR.N), Figure sets itself apart from other robotics companies like Boston Dynamics and Amazon Robotics by creating general-purpose robots with the ultimate goal of enabling its robots to learn and interact with their surroundings.
According to Adcock, "we believe general-purpose humanoid robots have far more potential than single-purpose robots. The deployment into the workforce can help address labor shortages and eventually pave the way for the elimination of the need for hazardous and unattractive jobs."
The next commercially viable humanoid robot is being developed by major tech companies as well as startups like Figure.
For instance, Tesla (TSLA.O) unveiled a prototype of its 'Optimus' humanoid robot last year. Elon Musk, the CEO, predicted that the manufacturer of electric vehicles would be able to accept orders for the robot in three to five years and sell them for less than $20,000.