Inter wins the Italian Cup thanks to two goals from Martinez.
Published: 5/25/2023 4:52:38 AM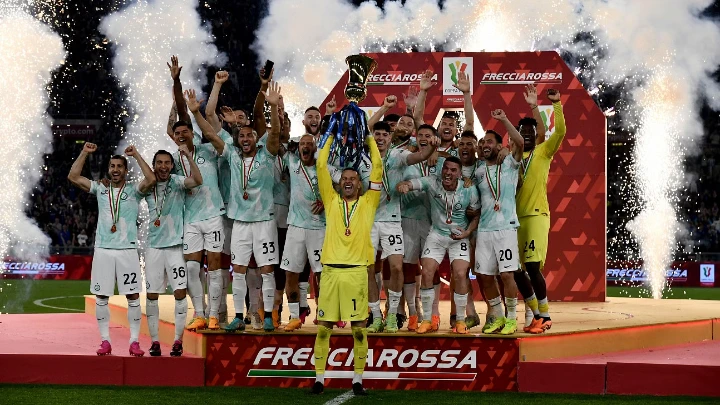 Inter Milan's Slovenian captain Samir Handanovic (C) holds up the trophy as players celebrate their championship after winning the Italian Cup final against Fiorentina at the Stadio Olimpico in Rome on May 24, 2023. Photo: AFP
As Champions League finalists, Lautaro Martinez scored twice. On Wednesday, Inter Milan overcame a deficit to defeat Fiorentina 2-1 and reclaim the Italian Cup.
At the Stadio Olimpico, Nicolas Gonzalez gave Fiorentina an early lead, but Martinez scored for Inter to tie the score before volleying in the game's winning goal for Simone Inzaghi's team just before halftime.
With their ninth Italian Cup victory, Inter is now tied with Roma. Only Juventus has raised the trophy more frequently, with 14 victories.
six-time champions Despite being denied their first trophy since 2001, Fiorentina still had a chance to end the season with trophies after making it to the Europa Conference League final.
On June 7, they take on West Ham in Prague, two days before Inter plays in the Champions League final against Premier League champion Manchester City in Istanbul.
Gonzalez's far-post conversion of Jonathan Ikone's threaded cross gave Fiorentina the perfect start in Rome and made them the first club to advance to the final of four significant European tournaments.
As Fiorentina threatened a second goal, Sofyan Amrabat shot wide from the edge of the box, and Inter striker Edin Dzeko scooped the ball over after Martinez set him up.
After Marcelo Brozovic let him through just before the half-hour mark, the Argentine forward did not make this error and hammered low into the corner past Pietro Terracciano.
Eight minutes later, Martinez scored once more by slamming home Nicolo Barella's hooked shot from the right.
Luka Jovic came close twice as Fiorentina, which last week in Europe defeated Basel in the final seconds of extra time, battled to the bitter end.
The veteran Inter goalkeeper Samir Handanovic made an incredible save to deny the Serbian striker before he narrowly missed another opportunity.
Gonzalez almost forced extra time when he charged into the box and looped a header over Handanovic after his shot was stopped, but Matteo Darmian headed to safety as Inter hung on for the win.