"The Queen of Rock and Roll" Tina Turner, 83, has passed away.
Published: 5/25/2023 4:21:37 AM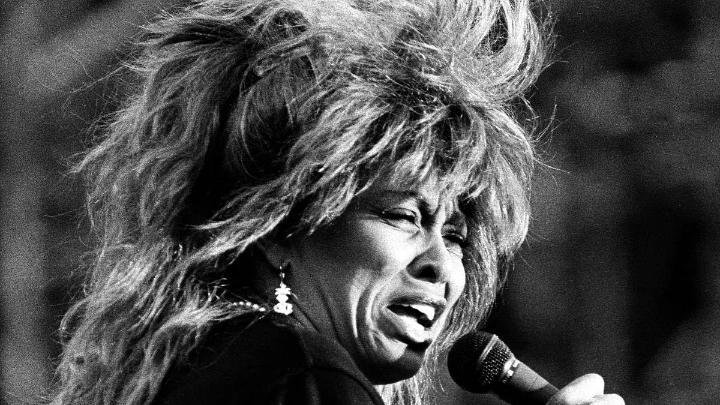 Tina Turner performs during her world tour 87 at the summer open air concert in Hamburg, Germany July 3, 1987. File Photo: Reuters/Michael Urban
The American-born singer Tina Turner, who rose to fame after leaving an abusive marriage and a poor farming community, passed away on Wednesday at the age of 83.
Her representative stated that she passed away peacefully in her home in Küsnacht, Switzerland, close to Zurich, after a protracted illness.
Turner started her career in the 1950s, at a time when rock and roll was just getting started, and she later became an MTV phenomenon.
Turner embodied 1980s fashion in the music video for her number-one single "What's Love Got to Do with It," in which she referred to love as a "second-hand emotion," as she strutted through the streets of New York City with her spiky blond hair, a cropped jean jacket, a mini skirt, and stiletto heels.
Turner fit in perfectly with the 1980s pop scene, which valued electronically produced sounds and scorned hippie-era idealism. She had a taste for musical experimentation and bluntly worded ballads.
Turner, who was referred to as the "Queen of Rock 'n' Roll," received six of her eight Grammy nominations in the 1980s. Twelve of her songs, including "Typical Male," "The Best," "Private Dancer," and "Better Be Good to Me," reached the Top 40 during the decade. 180,000 people attended her performance in Rio de Janeiro in 1988, which is still one of the biggest concert crowds for a single performer.
Turner had been divorced from guitarist Ike Turner for ten years by that point.
The superstar was open about the abuse she endured from her ex-husband while they were married and working together on music in the 1960s and 1970s. She described various injuries that frequently brought her to the emergency room, including bruised eyes, busted lips, a broken jaw, and others.
Singer Janet Jackson praised Tina Turner in a Rolling Stone article that ranked Turner No. 63 among the top 100 artists of all time, saying that "Tina's story is not one of victimhood but one of incredible triumph."
She's become an elegant powerhouse and an international sensation, Jackson claimed.
Turner gave her reputation as a survivor a fictional twist in 1985. She costarred with Mel Gibson as the ruthless commander of an outpost in a nuclear wasteland in the third Mad Max film, "Mad Max Beyond Thunderdome."
Even though Turner's most popular songs were composed by others, she brought life to them with a voice that New York Times music critic Jon Pareles called "one of the more peculiar instruments in pop."
"It's three-tiered, with a nasal low register, a yowling, cutting middle range, and a high register so startlingly clear it sounds like a falsetto," Pareles observed in a concert review from 1987.
In "ONE-HORSE TOWN,"
She was born Anna Mae Bullock on November 26, 1939, in the rural Tennessee town of Nutbush, which she referred to in her 1973 song "Nutbush City Limits" as a "quiet little old community, a one-horse town."
Her mother left the family when the singer was 11 years old, and her father worked as an overseer on a farm, according to the singer's 2018 autobiography "My Love Story." She relocated to St. Louis as a teenager to be with her mother.
She was discovered by Ike Turner, whose 1951 song "Rocket 88" is frequently referred to as the first rock and roll record, when she took the stage to perform at his club show in St. Louis in 1957 at the age of 17.
Before the two got married in Tijuana, Mexico, the bandleader gave his protégé the stage name Tina Turner and they later collaborated on the hit song "A Fool In Love."
As the lead vocalist in the Ike and Tina Turner Revue, Tina used her powerful voice and diligently practiced dance moves. In the 1960s and 1970s, she worked with legendary musicians like The Who and Phil Spector, and in 1967, she was featured on the cover of Rolling Stone magazine.
Ike and Tina Turner switched record labels frequently and credited their commercial success in large part to an exhausting touring schedule. Their version of Creedence Clearwater Revival's "Proud Mary" became their biggest hit.
According to her memoir, Turner left her husband one night in 1976 while on a tour stop in Dallas after he beat her and she retaliated. In 1978, the divorce was legally finalized.
Ike and Tina Turner were inducted into the Rock & Roll Hall of Fame in 1991 and were hailed as "one of the most formidable live acts in history." Turner passed away in 2007.
EUROPE DIRECT
Turner struggled for years to regain fame after divorcing her husband, putting out unsuccessful solo albums and singles while performing at business gatherings.
She first met her subsequent manager Roger Davies in 1980. An Australian music executive, he would manage her for the next three decades. "What's Love Got to Do With It" became her first solo no. 1, and in 1984, her album "Private Dancer" propelled her to the top of the charts.
The album "Private Dancer" went on to become Turner's best-selling one, serving as the pinnacle of a career in which she sold more than 200 million records overall.
Turner began a long-term residence in Europe in 1988 when she moved to London after meeting German music executive Erwin Bach in 1985. She performed the theme song for the 1995 James Bond film "GoldenEye," released two studio albums in the 1990s that did well, particularly in Europe, and organized a prosperous world tour in 2008 and 2009.
She then left the entertainment industry. She gave up her American citizenship when she married Bach, gaining Swiss citizenship instead.
After retiring, she struggled with a variety of health issues, and in 2018, she experienced a personal tragedy when her eldest son, Craig, committed suicide in Los Angeles at the age of 59. Ronnie, her younger son, passed away in December 2022.
Years after she retired, her name still draws crowds. The musical stage production "TINA: The Tina Turner Musical," which stars Adrienne Warren in the lead role and sings the star's life story, debuted in London's West End in 2018 and later transferred to Broadway. It is currently still in production. And "Tina," an HBO documentary about her life, was released in 2021.
Bach and her adopted two sons from Ike are her only surviving family members.