CR7: the Saudi league has the potential to be one of the top five in the world.
Published: 5/24/2023 5:30:23 AM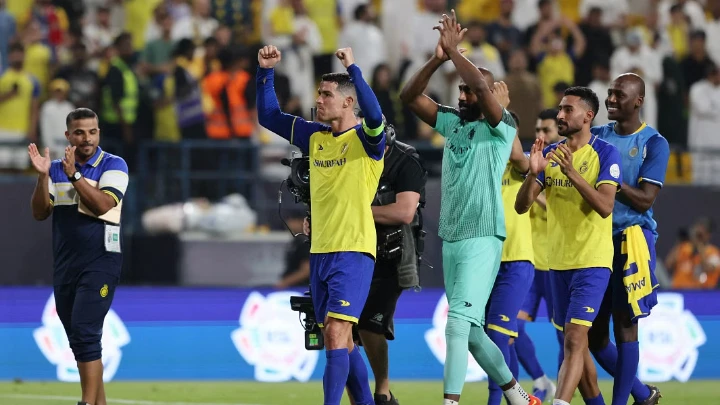 Cristiano Ronaldo scored a stunning winner on Tuesday as Al-Nassr came back to beat visitors Al-Shabab 3-2 and put Al-Ittihad's Saudi Pro League title celebrations on hold. PHOTO: REUTERS
Cristiano Ronaldo, a legendary player in Portuguese soccer, thinks the Saudi Pro League, which he recently joined, has the potential to one day rank among the top five leagues in the world.
The captain of Portugal's new team, Al-Nassr, signed a contract in January that some media outlets peg at more than 200 million euros ($220.16 million).
With stints at Real Madrid in Spain's La Liga, Manchester United in the English Premier League, and Juventus in Italy's Serie A, Ronaldo has competed in three of the top leagues in the world.
The 38-year-old claimed that even during his brief participation, the Saudi competition's caliber had increased.
"We are much better, the Saudi league is getting better, and next year will be even better," he said on Tuesday to Saudi SSC channel.
"I believe that this league will eventually rank among the top five leagues in the world, but it will take time, players, and infrastructure to get there.
However, he continued, "I think this nation has amazing potential, they have amazing people, and the league will, in my opinion, be great.
The Saudis are ambitious, and earlier this month a source told Reuters that Riyadh club Al-Hilal had made a formal offer to sign Lionel Messi, Ronaldo's competition for the award for greatest player of his generation.
On Tuesday, Ronaldo scored an incredible winning goal as Al-Nassr rallied to defeat guest Al-Shabab 3-2 and halt Al-Ittihad's Saudi Pro League championship celebrations.