The debt ceiling meeting between Biden and McCarthy ended without an agreement.
Published: 5/23/2023 10:20:47 AM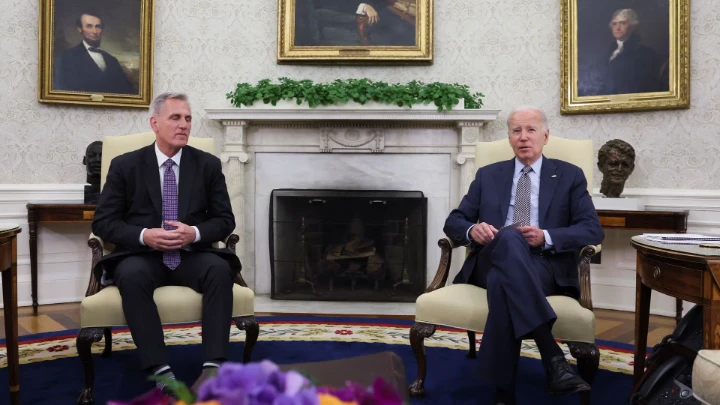 House Speaker Kevin McCarthy (R-CA) sits for debt limit talks with U.S. President Joe Biden in the Oval Office at the White House in Washington, U.S., May 22, 2023. REUTERS/Leah Millis/File Photo
With just 10 days left before a potential default that could destroy the U.S. economy, President Joe Biden and House Speaker Kevin McCarthy were unable to come to an agreement on how to raise the $31.4 trillion debt ceiling for the United States government, but they vowed to keep trying.
While McCarthy pressures the White House to accept spending cuts in the federal budget that Biden calls "extreme," and the president pushes new taxes that Republicans have rejected, the top congressional Republican and the Democratic president have struggled to reach an agreement.
After the meeting on Monday night, both sides emphasized the necessity of avoiding default with a bipartisan agreement, and they gave the impression that they would be in contact frequently going forward.
White House negotiators were expected to return to Capitol Hill on Monday night to pick up where they left off, according to a source with knowledge of the matter.
In a statement following the meeting, which he called "productive," Biden said, "We reiterated once again that default is off the table and the only way to move forward is in good faith toward a bipartisan agreement."
After more than an hour of discussions with Biden, McCarthy told reporters that the two sides would "get together, work through the night" to try to reach an agreement.
McCarthy said, "I think we can still get there. He stated that he is focused on cutting spending in the federal budget for 2024 and is unwilling to consider Biden's proposal to reduce the deficit by increasing taxes on the wealthy and closing tax loopholes for the oil and pharmaceutical industries.
Democrats and Republicans must raise the government's self-borrowing cap by June 1 to avoid an unprecedented debt default that, according to economists, could lead to a recession.
The earliest estimated default date is still June 1, according to Treasury Secretary Janet Yellen, who also stated that it is "highly likely" that Treasury won't be able to pay all government obligations by early June if the debt ceiling is not raised.
Any partial budget agreement to raise the debt ceiling was rejected by Republican Representative Patrick McHenry, who was present at the White House meeting. No one will consent to anything until we have a completed agreement, he said.
He claimed that the tone at the meeting with Biden was the most upbeat so far.
Any agreement to raise the cap depends on support from both parties in Congress because it must be approved by both chambers. While Biden's Democrats hold the Senate 51-49, McCarthy's Republicans command the House 222-213.
Failure to raise the debt ceiling would result in a default, which would roil the financial system and raise interest rates on everything from credit card balances to auto loans.
U.S. markets rose on Monday as investors awaited updates on the negotiations.
It will take several days to move legislation through Congress if and when Biden and McCarthy come to an agreement. McCarthy said that a deal must be reached this week for it to pass Congress and be signed into law by Biden in time to avoid default.
CUTS AND CLAWBACKS
Republicans want discretionary spending cuts, new work requirements for some programs for low-income Americans and a clawback of COVID-19 aid approved by Congress but not yet spent in exchange for a debt ceiling increase, which is needed to cover the costs of lawmakers' previously approved spending and tax cuts.
Democrats want to hold spending steady at this year's levels in 2024, while Republicans want to return to 2022 levels next year and cap spending growth in the years ahead. A plan passed by the House last month would cut a wide swath of government spending by 8% next year.


Biden, who is running for re-election and has made the economy a key component of his domestic agenda, has said he would consider spending cuts in addition to tax adjustments but that Republicans' most recent offer was "unacceptable."
The president tweeted that he wouldn't support "Big Oil" subsidies and "wealthy tax cheats" while putting millions of Americans' access to healthcare and food assistance at risk.
Any concessions must also be weighed against pressure from hardline parties' factions on both sides.
Some members of the extreme right-wing House Freedom Caucus have called for an end to negotiations and demanded that the Senate pass their House-passed legislation, which Democrats have rejected.
McCarthy, who made significant concessions to right-wing extremists to win the speakership, may run the risk of losing his job if his own party does not approve of the deal he strikes.
Republicans should force a default if they cannot accomplish all of their objectives, according to former president Donald Trump, a Republican who is running for re-election after losing to Biden in the 2020 election while downplaying any negative economic repercussions.
Any cuts that would hurt families and lower-income Americans have been resisted by liberal Democrats. The top Democrat in the House, Hakeem Jeffries, charged that Republicans were holding the talks in "hostage negotiation" and stated that he is looking for Republican support for a discharge petition that could raise the debt ceiling on its own.
According to Jeffries, Biden offered to freeze spending at this year's levels, but Republicans rejected his proposal.