In the wake of a point deduction, Juventus loses 4-1 to Empoli.
Published: 5/23/2023 5:13:04 AM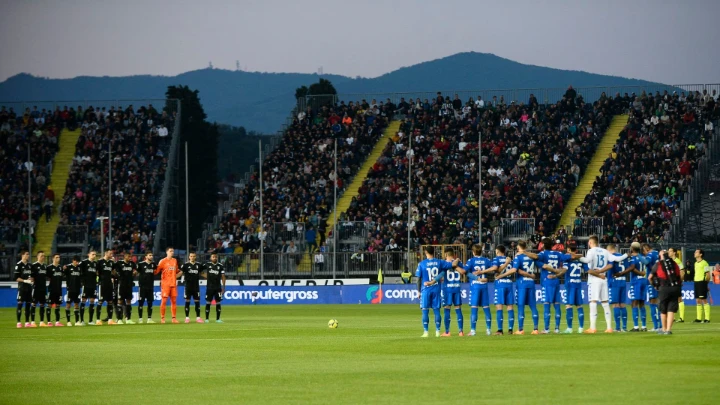 Soccer Football - Serie A - Empoli v Juventus - Stadio Carlo Castellani, Empoli, Italy - May 22, 2023 General view during a minutes silence before the match for the victims of the floods in Emilia-Romagna REUTERS/Massimo Pinca
After being docked 10 points in a new ruling over their transfer dealings, Juventus suffered a crushing 4-1 defeat at lowly Empoli on Monday in Serie A, making it highly unlikely that they will qualify for the Champions League.
Before Federico Chiesa scored a consolation goal for Juve five minutes from time and Roberto Piccoli sealed Empoli's win in stoppage time, Francesco Caputo scored twice and Sebastiano Luperto scored once to put Empoli up 3-0 shortly after halftime.
After hearing the new verdict just before kickoff, Juve fell from second to seventh place and had points deducted.
They currently sit in fifth place with 59 points, five behind AC Milan in fourth, and one behind AS Roma in sixth and the final European qualifying spot.
Massimiliano Allegri, coach of Juve, said, "Summing up a season in an evening like this is an understatement." It was an unusual situation, and the sentence came out ten minutes before kickoff.
We need to stick together because Juventus are used to winning. On Sunday, Milan will be visiting, and there will be six points at stake.
In Juve's intense opening to the game, Arkadiusz Milik hit the crossbar after a corner, and Federico Gatti had a goal disallowed after the restart because of a foul in the lead-up.
However, things went downhill for Juventus after 18 minutes when Empoli were awarded a penalty for a foul by Milik on Nicolo Cambiaghi, which striker Caputo converted to give the home team the lead.
Three minutes later, Empoli doubled their lead when defender Luperto scored on a rebound from a corner kick by hitting the top of the net.
Dusan Vlahovic and Gleison Bremer both had good opportunities for Juve in the first half, but they were unable to reduce Empoli's lead before they scored two minutes into the second.