A Red Cutout Dress Worn by Pooja Hegde Is Enough to "Set This World On Fire"
Published: 5/23/2023 4:48:47 AM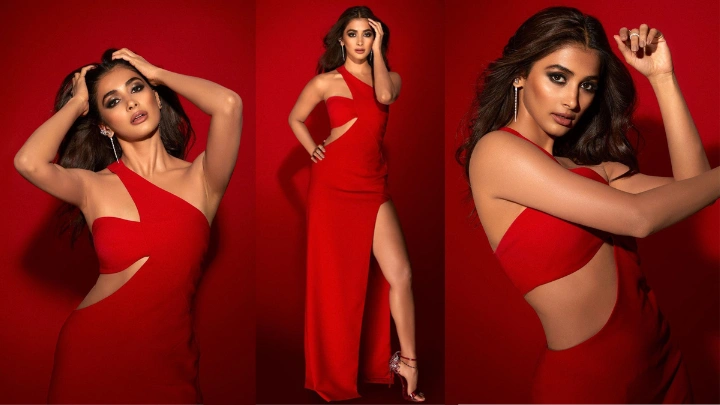 One cannot resist the daring trend of creative cutouts, and even celebrities are jumping on board. Pooja Hegde is currently the most recent. The way Pooja Hegde dresses is a perfect example of how to wear a statement piece. She enjoys putting on a show every time she dresses up.
She is demonstrating it beautifully in a daring red cutout dress, demonstrating her love for a bold statement piece that will never go out of style. Her monochromatic appeal is modern and exudes style. The stunning design from the fashion house Monot had the most attractive fit. Oh dear lord, we think it's possible after she posted a series of striking images in the one-shoulder dress with the caption, "Where's the matchstick coz I'm about to set this world on fire." We were all taking notes on how to master the trend after noticing the outfit's thigh-high side slit.

Every girl's wardrobe should include a one-and-done outfit, and coordinated outfits manage to check all the right boxes. They are the ideal option because they require little effort but have a big impact, and Pooja Hegde has recently been giving us hints on how to get our hands on the hottest summer girl pick. The actress popularized the phrase "think red" by dressing in a stunning monotone bright red coordinated set. Pooja has long been one of fashion's favorite darlings, as evidenced by her most recent outfit choices. She chose a stylish matching set with a striking floral applique.