Wishing Suhana Khan a very happy birthday! Iconic Sarees Replaced Suhana Khan's Bodycon Dresses 6 Times
Published: 5/22/2023 9:49:18 AM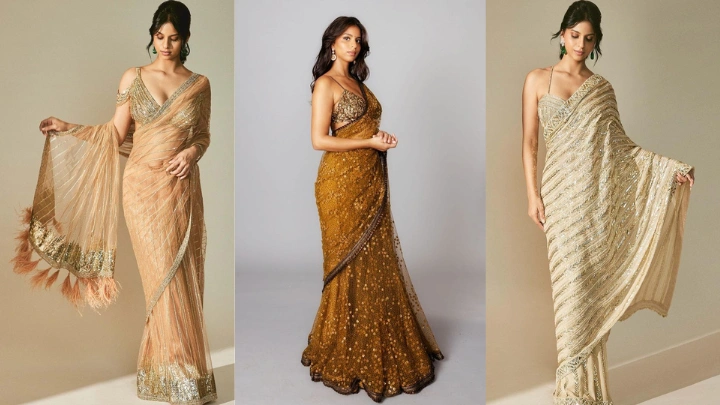 Suhana Khan was already a Bollywood style icon before her big debut. Her love for bodycon dresses knows no bounds, but do you know what may just outweigh her love for bodycon dresses? Her elegant sarees. Her stunning sarees are the epitome of grace and elegance, and they will only get better with age. On the occasion of Suhana's birthday, we look back at her most memorable saree moments, which could give anyone a run for their money.
Suhana Khan's Sabyasachi saree in gold turned many heads. Suhana wore a muted gold designer saree with prints, applique, and sequins that gave the traditional garment a modern twist, which she paired with a shimmery sequined strappy blouse. Suhana completed her look by wearing dangling earrings and wearing muted makeup.
Suhana's embellished sheer drape from Falguni Shane Peacock featured sparkling stripes, with a dazzling sequin horizontal border and feathered trim along the end. Suhana's chic blouse had embellishments with cold-shoulder details.
Suhana Khan's Manish Malhotra World glistening gold saree was stunning in every way. The drape had pinstriped beadwork in shimmery gold on a beige background. She paired the saree with a strappy blouse that featured delicate beadwork.


Suhana donned yet another Manish Malhotra drape in a delightful shade of red which featured red beaded embroidery that was simple yet chic. She wore a backless blouse adding a modern touch to the traditional look.
For a recent celebrity wedding, Suhana went the ethnic route in a sheer white saree which featured a sequinned design on a sheer net saree paired with a strappy white blouse with matching beadwork.
Her shimmery black and silver drape with short-sleeved corset blouse was traditional with a dramatic edge. The sheer saree was embellished with shimmery zari work in silver and motifs. The sleeves were also adorned with silver ruffled detailing.