The patchwork angel, fashion designer Chandana Dewan
Published: 5/21/2023 6:21:20 AM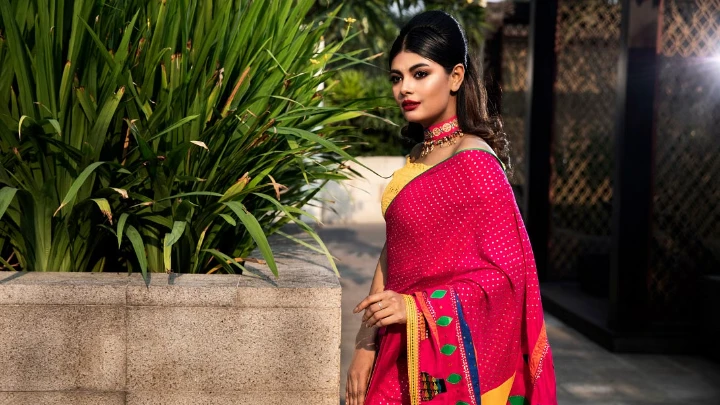 For quite some time, Chandana Dewan's fashion-forward ideas have gotten a lot of attention. The designer is known for using bold and vibrant colors as well as block motifs, but it is her love affair with patchwork that truly distinguishes her work.
"I took a jewelry design course in California and began experimenting with different mediums such as paper and beads." "My love for accessorizing gradually spread across mediums, and I began designing saris with patches decorated with embroidery," Chandana explained.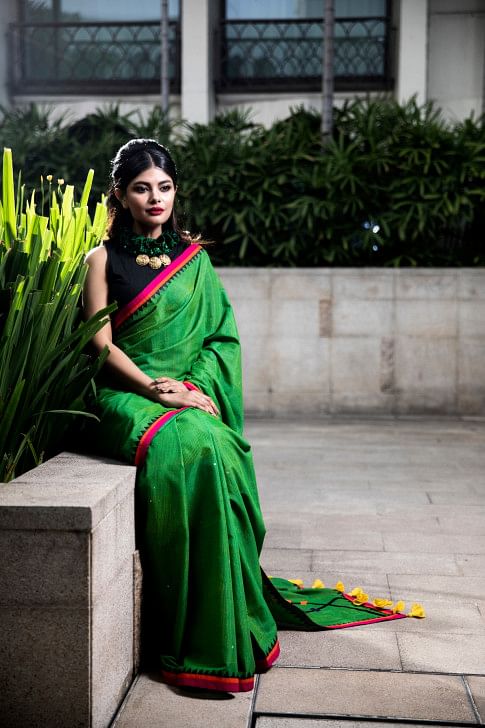 She gradually broadened her horizons and product line, designing shalwar suits, kurtis, tops, shawls, bags and jewelry, men's kurtas, and even children's outfits. Her creations quickly gained popularity and became a favorite among fashionistas.
Chandana's work is mostly brightly colored, and she is inspired by nature and the changing seasons.
"My pieces embody the season to which they belong." "For the motifs in my collection, I also draw a lot of inspiration from deshi flowers like krishnachura, jaba, nayantara, rajanigandha, and even seasonal fruits," she explained. Her intricate patchworks, on the other hand, have become her trademark over the years. She came up with the idea of patchwork after realizing that she would have a lot of fabric left over after making any outfit.
"A lot of good leftover fabric goes to waste because there isn't enough to make another outfit out of." However, I realized that using these fabrics as patches can make any outfit stand out even more. "I began experimenting with patchwork, and it quickly became my signature style," she added.
The use of sustainable fabric is another distinguishing feature of Chandana's creations. "Lightweight, comfortable, and easy to wear while remaining extremely fashionable." Sustainable fabrics give the wearer a timeless and distinct look that sets them apart. Bangladesh has a very hot and humid climate. "With this in mind, we always try to use natural breathable fabrics with an emphasis on comfort," she added.
Chandana is currently developing new designs that will incorporate her signature and trademark patches. She has also added embr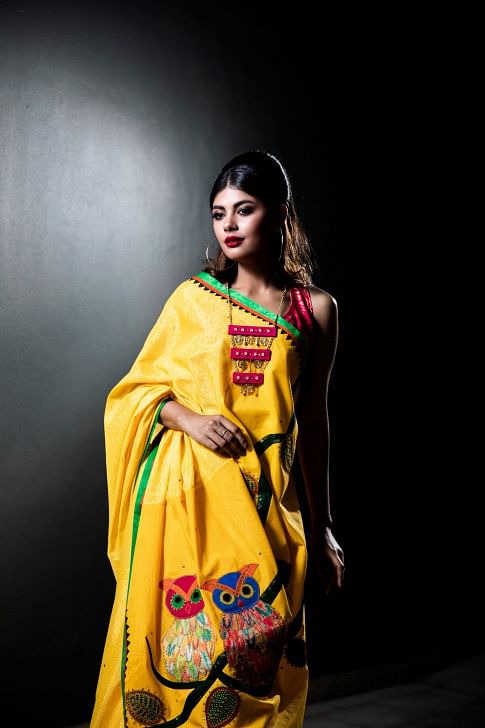 oidery, block print, and screen print to add variety and break away from her usual style. She will continue to experiment with patchwork fabric and embellish her patches with beadwork, block print, and screen print, as well as use bold, vibrant colors.

Chandana also praised the current fashion scene, where women of all ages, ethnicities, and social statuses are attempting to embrace fashion in their own unique way.
"Fashion is now more accessible to the general public." Women dress in seasonal colors and follow the theme of the various festivities. They are big fans of the fusion Indo-Western look that is so popular right now. "This is an exciting time to be a fashion designer because we have the freedom to experiment with colors and trends and find designs that resonate with our clientele," she concluded.

Model: Linda
Styling: Sonia Yeasmin Isha
MUA: Jewel
Location: InterContinental Dhaka