1st ever booming car rally in Bangladesh
Shining BD Desk || Shining BD
Published: 6/19/2022 11:08:18 PM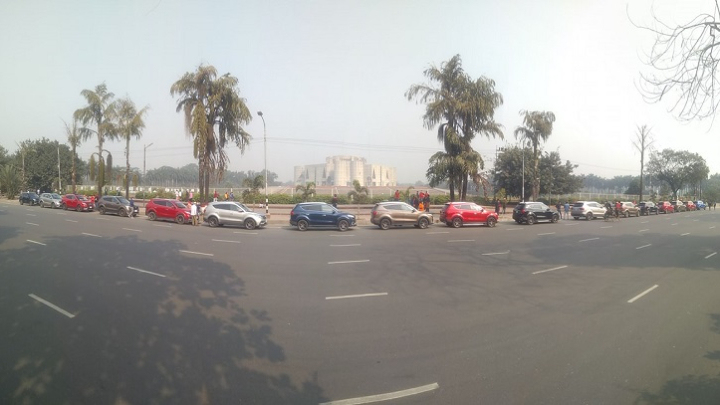 Glory Group Bangladesh organized the first private car rally in the country. The rally was like a dream to the participants. 26 Glorian took part in it.
The rally was chased in Cahttogram Kaliakair and Savar last Friday (January 15). The Glorians were joined by their family members. Hundreds of people, including children and car lovers, gathered at the rally.
The rally was overseen by HM Sohail, Admin of Glory Facebook Group. He told Shiningbd.com about his captivating experience and inspiration. "Driving is my addiction," he said. I love driving. I have driven more than 70 types of vehicles with different capabilities. This includes cars from 800 cc to 4700 cc and 500 kg to 42000 kg.
He said, "I drove cars from Tata, Toyota Publica to BMW X6, Audi A6, Jeep, Mercedes, from simple 4x2 drive to 4x4, 8x8, from 4 wheel car to 22 wheeler low beds, flatbeds, from dry hot sandy desert to slippery muds to icy snow. I had the experience of driving the most modern vehicles of recent time. Well, these are my works for living.
Regarding the Glory Group car rally, he expressed his fillings saying, "On the day (I drove) continuous 14 hours just to join Glory Rally as I was far away from Dhaka. The amazing driving experience with Glory was unforgettable as I was never tired in last 2000+ km and that long 14 hours at a stretch driving."
He has participated in various international car rallies. He recently took part in a dangerous rally in the Sahara Desert. He said that he had been planning to hold car rallies in Bangladesh since he took part in car rallies in different countries. "We started a Facebook group with that in mind," he said.
Then, he organize people who are interested in the mentality and those who love to drive here and participate in private car rally. There will be more such rallies later, he hoped also.