China warns Bangladesh over US 'lies' on Xinjiang forced labour
Shining BD Desk || Shining BD
Published: 7/6/2022 8:37:26 AM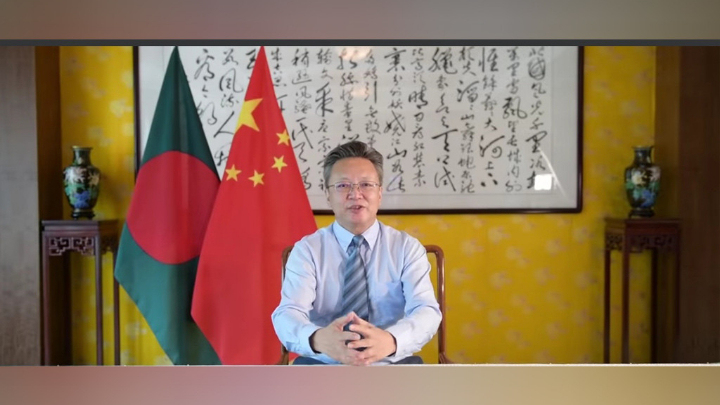 Chinese ambassador to Bangladesh Li Jiming accused Washington of spreading "lies" about "forced labor" in China's Xinjiang region, and told Bangladesh to be wary against such campaigns which could harm Bangladesh's RMG business.
He said this in a video posted on the Chinese Embassy's verified Facebook page on Wednesday.
It has come to my attention that a certain RMG industry association in Bangladesh recently alerted its members to the risks associated with cotton from China, due to the US's allegation of "forced labor in Xinjiang," Li said citing Bangladesh Garments Buying Association's (BGBA) instruction last month warning its members to stay cautious while importing fabrics from China for making readymade garments as United States begins implementing an import ban on goods from China's Xinjiang region, where Washington says Beijing is committing genocide.
US Customs and Border Protection on June 21 began enforcing the Uighur Forced Labor Prevention Act (UFLPA), which President Joe Biden signed into law in December.
CBP issued a list of Xinjiang entities presumed to be using forced labor, which includes textile, solar-grade polysilicon, and electronics companies. It has said imports from other countries would be banned if related supply chains include Xinjiang inputs.
Beijing has been accused of locking up thousands of Uighur in re-education camps and forcefully integrating them into China's Han majority.
Beijing has denied such charges saying that it is providing vocational training to reduce the allure of Islamist extremism following violence, according to an AFP report.
The Chinese ambassador cited a meeting last month between BGBA president KI Hossain and two representatives from 'Indo-Pacific Opportunity Project' in his video titled "#AMinuteWithAmbassador."
"I also noticed that the alert was issued following a meeting between the association and two representatives from 'Indo-Pacific Opportunity Project,' affiliated to some US Agency," he said.
"The so-called "forced labor in Xinjiang" is entirely a lie. But why do they lie? It is now circulated on the internet that two US diplomats previously posted in Guangzhou reportedly confessed in 2021, and I quote, "Nothing is wrong about Xinjiang, but to attack their human right policies is an effective means to make Xinjiang break away from international industrial chain, and to make Uighurs unhappy, turbulent and then fight against the Chinese government",unquote." Li said in his video.
Calling Washington's accusations a smear campaign, Li said: The reason why I brought it up here today is that, if Bangladeshi people are not cautious enough, this lie may hurt Bangladeshi RMG industry as well. Don't you think so?"
Last Month, BGBA president KI Hossain cautioned its members against importing fabrics made with Uighur cotton and shipping it to the US, as the whole shipment would be seized and forfeited under the new US law.
"The US has put a restriction on Chinese cotton growing in Xinjiang province from Jun 21. So, I request all the buying houses, before importing any fabrics from China, please see the procedure regarding how to avoid this restriction. Otherwise, you will not be able to ship anything to the US," said the BGBA president in his message to the members of the association.
Dhaka Tribune