PM seeks countrymen's help as govt forced executing load-shedding
Shining BD Desk || Shining BD
Published: 7/6/2022 8:18:25 AM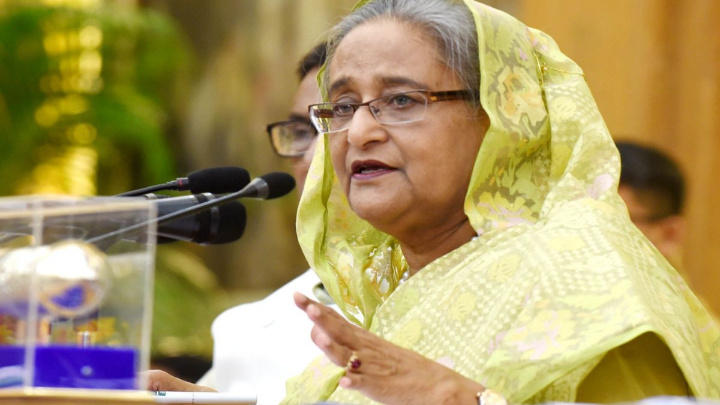 Prime Minister Sheikh Hasina today said her government is bound to carry out load shedding and limit electricity production as the fuel prices are continuously increasing globally due to Russia-Ukraine war, urging countrymen to comply with the situation.

"We have reached electricity to every house. But, now, we are compelled to execute load shedding and limit electricity generation as we couldn't give (any more) subsidy in the power," she said.

The prime minister said this while inaugurating the country's first university campus-based IT business incubator at the Chittagong University of Engineering and Technology (CUET) named Sheikh Kamal IT Business Incubator (SKIBI).
She virtually joined the programme held at CUET campus from her official Ganabhaban residence here while she also opened Sheikh Jamal Dormitory and Rosy Jamal Dormitory.

The prime minister said she asked authorities concerned to prepare a routine to accomplish area-wise specific time based load shedding across the country, urging the countrymen to save power in line with their best ability.

"Prepare a routine on how long load shedding will be executed in which area so the people can prepare themselves for that and their suffering can decrease this way," she said.

She hoped that the countrymen would help the government in this regard realising the fact that the prices of everything including food, transportation, fertiliser, oil, LNG and diesel increased globally for Russia-Ukraine war and the situation is worsening as America-Europe imposed sanctions on Russia.
She also said the situation impacted on the whole world even on Bangladesh. But, the country is forwarding facing all these problems, she added.

The prime minister noted that her government is currently giving a total subsidy of Tk 28000 crore to the power sector.
She said, "We have to provide a subsidy of Tk 25000 crore for LNG import to meet the demand of gas for making the power plants operational."

She also said they have to give a subsidy of TK 84,000cr every year and allocation for the subsidy have also been made in the current budget, adding, "If we don't reduce the subsidy, then, from where the government will get the money."

Besides the subsidy, she said her government has given stimulus packages for rolling out the country's economy along with giving one crore ration cards to get essentials at subsidized prices and is providing vaccines free of cost which many rich countries couldn't do.

The prime minister also announced to include 2716 educational institutes across the country, 2051 of them under secondary and higher secondary education division while 665 others under vocational and madrashah education board, in the MPO (monthly payment order) list as she has attached topmost priority to education.

She said her government has considered investments in education as asset rather than expense as they want to prepare science and IT knowledge based generation so they can compete with the world.

An audio-video documentary on the IT business incubator was screened on the occasion.

State Minister for ICT Division Zunaid Ahmed Palak, MP, gave the address of welcome while its Senior Secretary NM Zeaul Alam moderated the function.
BSS