Elon Musk, Twitter's CEO, announces a change to blue tick
Published: 3/28/2023 4:48:43 AM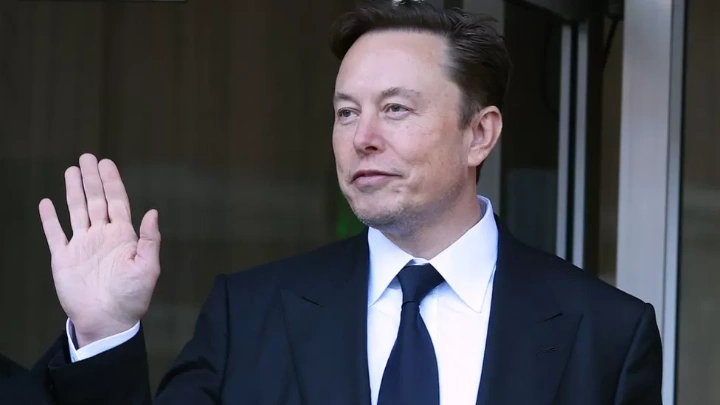 Elon Musk, the CEO of Twitter, has revealed changes to the social media platform's premium Twitter Blue feature.
Only verified subscribers will be able to vote in polls and recommend posts to other users starting on April 15.
According to the policy, tweets from non-paying accounts will not appear in the stream labeled "For you."
The company announced last week that it would delete the verified status from some "legacy" accounts that were created before Mr. Musk acquired the business.
Blue-tick verification is currently $7 (£5.70) per month, and it also gives users access to more features.
The changes, according to Mr. Musk, are "the only practical solution to address advanced AI bot swarms taking over." Otherwise, it is a fruitless battle.
For the same reason, voting in elections will require verification, he continued.
Earlier, Mr. Musk claimed that paid verification made using bots more expensive and made it simpler to spot them.
However, the move has been criticised by some social media users.
A former worker on Twitter's verification team who asked to remain anonymous told the BBC: "Our number one goal for my team was to protect users from real world harm and this screams the complete opposite to me."
"Verified users will use their power and their presence on the platform to influence anything from misinformation to actual harm for users all around the world. It's a silent threat that no one is seeing," they added.
When Elon Musk took control of Twitter, he had grand plans to restore "free speech."
He declared that this "isn't a way to make money" and wished for "maximum trust" in the platform.
But current Twitter policy feels very dissimilar from those ideals.
Musk switched to a subscription-based business model after realizing how difficult it was to boost advertising revenue.
Initially, the selling point was that users would receive "blue tick" verification if they paid a monthly fee.
But the paying customers didn't show up in large numbers. Musk has chosen to go nuclear in response to flagging advertising revenue and a stuttering subscription model.
The "For you" stream of suggested tweets and the stream of tweets from people you follow are two algorithms used by Twitter.
Now that Elon Musk has changed the rules, paying users will effectively be banned from participating in one of those streams.
It implies that Twitter users who are not verified will have much lower chances of having their tweets liked or retweeted.
This could be a very risky time for Twitter, especially with Elon Musk's lowering of misinformation checks.
Former workers I've spoken to believe that this could be manna from heaven for trolls and those spreading false information.
It also calls into question Twitter's very existence. It was intended to be a fairly meritocratic workplace where tweets were promoted based on the caliber of their content.
It played a major role in Twitter's success. But that seems to have vanished at this point.
line
Twitter Blue's initial rollout in November was chaotic because imposters started posing as famous people and major brands and paid for the blue tick badge to give the impression that they were the real deal. Many people posed as Elon Musk.
After less than a week, this compelled Twitter to pause the feature; it was later relaunched the following month.
Since then, controversial groups have made use of Twitter Blue, including Taliban leaders and well-known allies in Afghanistan.
Tweets from verified users are prioritized over those from other accounts. Along with other benefits, subscribers also have access to extra features like an edit button.
The blue tick was previously used to denote the authenticity of high-profile accounts. Twitter distributed them without charging a subscription fee, but the company alone decided who received one.
Twitter announced last week that starting on April 1, it would phase out its "legacy verified program" and remove some "legacy verified checkmarks."
Users had to pay, the company continued, in order to "keep your blue checkmark on Twitter."
Social media platforms' ability to increase advertising revenue or paid subscriptions can be harmed by bots.
Mr. Musk has frequently voiced his concern over the sheer volume of phony or spam accounts on Twitter. In order to inquire about the number of bots disclosed by the company's previous management team, he temporarily postponed his $44 billion plan to acquire the social media platform.