Italy defeated Malta 2-0 to get back on track.
Published: 3/27/2023 4:26:10 AM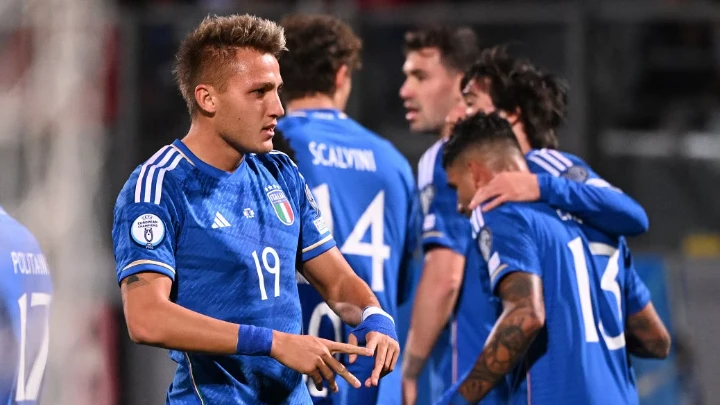 Italy's Mateo Retegui celebrates after scoring their first goal against Malta during the Euro 2024 qualifiers at the National Stadium Ta' Qali, Attard, Malta on March 26, 2023. PHOTO: REUTERS
In their Group C matchup for the Euro 2024 qualifying tournament on Sunday, Italy defeated Malta 2-0 thanks to goals from forward Mateo Retegui and midfielder Matteo Pessina.
After beginning the season with a 2-1 loss to England on Thursday, the defending champions Italy were hoping to pick up their play.
The stakes are extremely high in these games, and they are frequently unpleasant. The most important thing was winning, Roberto Mancini, the coach of Italy, told RAI Sport. "We did some things well, others less so.
We scored first and had a chance to score more, but these games can be strange.
Italy had to build up play slowly from the midfield and look for openings because the hosts started the game very defensively.
Alexander Satariano managed to send a half-volley toward goal from inside the box for Malta, but goalkeeper Gianluigi Donnarumma got a hand to the shot and pushed the ball over the crossbar.
However, Italy took the lead in the 15th minute when Retegui escaped his defender to head in a corner. Pessina then doubled Italy's advantage in the 27th minute by tapping in Emerson's cross from close range.
Soon after, Vincenzo Grifo came dangerously close to scoring three goals for the visitors, but Henry Bonello of Malta expertly stopped him.
Gianluca Scamacca's overhead kick from a corner in the second half gave Italy a chance to extend their lead, but Bonello again saved them with a one-handed reaction save.
"There's no doubt that we could have done everything better. We should have taken advantage of the opportunity to play with less pressure when we were up 2-0, according to Mancini.
Earlier on Sunday, England easily defeated Ukraine 2-0 to put Gareth Southgate's team in charge of Group C.