Ronaldo praises the competitiveness of the Saudi League
Published: 3/23/2023 7:12:54 AM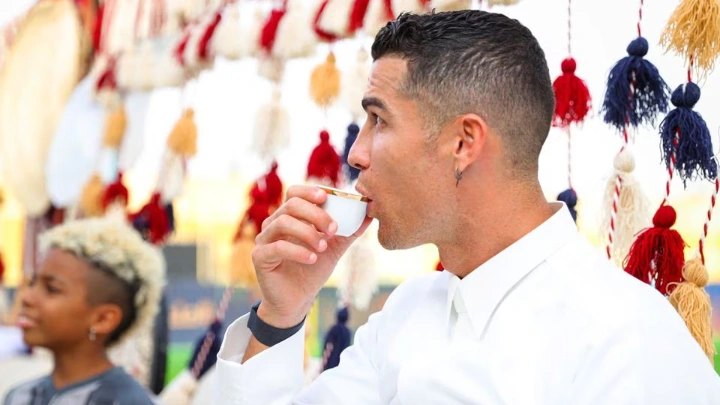 Al-Nassr's Cristiano Ronaldo celebrates Saudi Arabia's Founding Day wearing local traditional clothes at Al-Nassr Football Club in Riyadh, Saudi Arabia, February 22, 2023. Al-Nassr FC/Handout via REUTERS
Since joining Al Nassr in January, Cristiano Ronaldo said he has been surprised by the level of competition in the Saudi Pro League.
He told reporters, "I think you should look at the (Saudi Pro League) in a different way. It would be a lie for me to claim that the league is the Premier League.
But I'm pleasantly surprised by the league's high level of competition, balance, and quality teams.
"I am sure that in the coming years the league will be ... the fourth, fifth or sixth most competitive league in the world," added Ronaldo, who moved to Al-Nassr on a two-and-a-half-year contract worth a reported 200 million euros ($214.71 million).
Ronaldo is part of the Portugal squad for their Euro 2024 qualifiers against Liechtenstein later on Thursday and Luxembourg on Sunday.
The 38-year-old, who was benched by former coach Fernando Santos for their last two games at the World Cup, would make his 197th appearance for Portugal if he plays against Liechtenstein, surpassing Kuwait's Bader Al-Mutawa as the most capped player in men's football.
"I like to break records, I have broken lot of records ...," said Ronaldo, who debuted for Portugal in 2003.
"In addition to being the best scorer ever for national teams, I was also looking to be the international player with the most caps."
Portugal, who are now coached by Roberto Martinez, are in the same qualifying group as Bosnia & Herzegovina, Iceland, Luxembourg, Slovakia and Liechtenstein.