Hina Khan Makes A Daringly Chic Red Carpet Entry in a Black Gown
Published: 3/22/2023 8:22:55 AM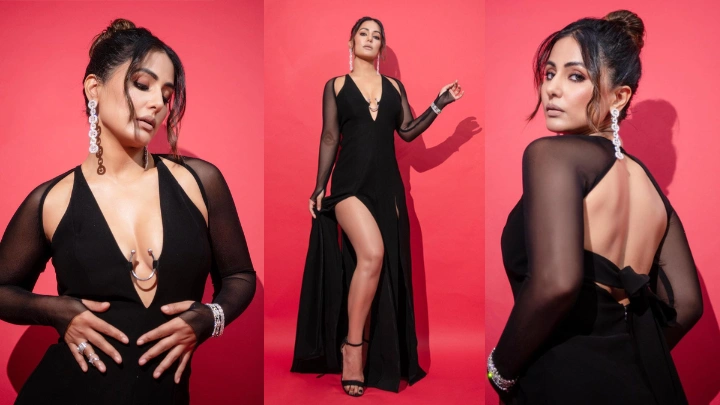 For greatness on the red carpet, there is the black gown. It is not shocking to see a beautiful black gown on the red carpet and not be moved by it. Hina Khan's sleek black dress at a recent awards ceremony was the most recent example of a black dress that had that effect on us. Hina Khan's figure was almost effortlessly draped by the form-fitting silhouette, which also brought out her best features.
Even though she chooses a more understated look this time, Hina Khan still chooses one of her best yet. She loves a classic black dress for any occasion. The black dress has a slit on the side and a flattering silhouette, which are all classic features. But Hina Khan wouldn't accept that, for obvious reasons. She has mesh sleeves that appear to be currently in style and a halter neckline that plunges deeply into a cutout with a hook design. Interesting hairstyles and smoky eyes for makeup are standard additions to Hina Khan's black outfits, and this look is no exception. She completes the look with matching bangles and shimmering shoulder dusters for earrings.

If you ever have the slightest doubt as to how a black gown can look anything but boring, turn to Hina Khan and you will find your style inspiration. Not very long ago she paired yet another form-fitting silhouette this time with an ombre sequinned detailing that runs black from the top and blends into silver towards the hemline. The mesh neckline panels that extend into sleeves make this gown a red-carpet winner. Then again you have the hair and makeup that work their magic to add drama as only Hina Khan can add.