Discover How To Wear Plunging Necklines Without Looking Uncomfortable, Just Like Priyanka Chopra, Taapsee Pannu, and More.
Published: 3/22/2023 7:16:54 AM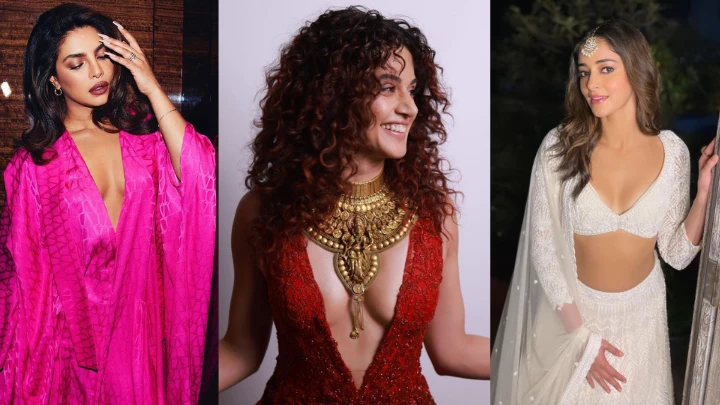 Bollywood celebrities have consistently raised the bar with their flawless sartorial choices. Despite the fact that many fashion trends come and go, the skin-baring trend must be a favorite. Recently, plunging necklines have become popular in fashion, and we adore it.
Bollywood celebrities recently "jumped in" and "joined the bandwagon," and things are only getting better as new, trendy methods continue to emerge on the internet. Here is a collection of celebrity-inspired ways to accessorize plunging necklines like a pro, from Priyanka's Valentino dress to Taapsee's daring look. Here's how you, too, can accomplish it.
Ananya Panday
Ananya Panday has a very signature way of serving glam; by keeping her style basic with a touch of elegance. Recently she aced the plunging neckline style right in a beautiful white lehenga. Simple yet elegant are the perfect words to define her look. She truly took the minimal route to complete her look with just a maang tikka.
Taapsee Pannu
Taapsee Pannu's choice of unconventional silhouettes have always kept her on our style radar and recently she managed to take the internet by storm with her latest look. She aced a gorgeous plunging neckline red number that came with sophisticated embellishment. What really caught our attention was the way she styled it. Her fresh take on gold jewellery has us all awestruck. She paired the plunging neckline with a heavy-duty neckpiece which featured intricate patterns.
Priyanka Chopra
Priyanka Chopra's recent Valentino kaftan was another number that was added to the list. She aced the relaxed style with an elongated plunging neckline effect. We truly love the monochrome bright shade as it was put together really well.