If Shakib had played in better conditions, he could have scored 10–12k runs: Hathurusingha
Published: 3/22/2023 6:11:18 AM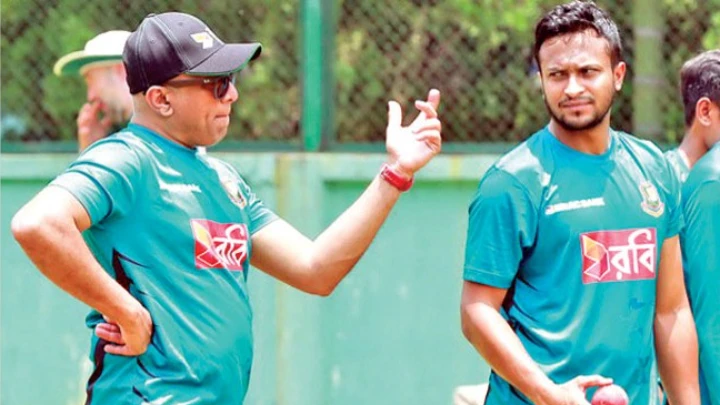 Shakib Al Hasan, the captain of the Tigers in ODIs and Test matches, was praised by Bangladesh head coach Chandika Hathurusingha for reaching the milestone of 7000 ODI runs. According to Hathurusingha, if the top all-rounder had played in conditions similar to those in England, Australia, or even India, he would have amassed close to 12,000 runs in the 50-over format.
In a video posted from the Bangladesh Cricket Board's [BCB] official channel, Hathurusingha was heard saying during an appreciation speech at the Sylhet International Cricket Stadium dressing room: "Shakib, I know playing in Bangladesh most of the time, and earlier, playing against other teams who had better bowling attacks [than Bangladesh], which is not the case now, at least not for the last five to six years."
With his 93-run knock in the first ODI against the Irish team last Saturday, Shakib became the second Bangladeshi, after ODI captain Tamim Iqbal, to reach 7000 runs in the 50-over format, marking another significant achievement in the ongoing full series at home against Ireland. He also became just the third player in ODI cricket history to score 7000 runs and take 300 wickets, joining Sanath Jayasuriya (13430 runs, 323 wickets) and Shahid Afridi (8064 runs, 395 wickets).
"Another thing is that it's difficult to score many runs here. It would have been 10,000 or 12,000 runs for your talent if you had played somewhere in England, Australia, or India. Congratulations on such a significant accomplishment, said Hathurusingha as he presented the cricketing champion with a plaque.

Bangladesh team management also acknowledged the achievements of Tamim and Mushfiqur Rahim, who also reached different milestones in the Ireland series.
Bangladesh ODI skipper Tamim became the first Bangladeshi and 40th overall to reach 15,000 international runs during his 23-run knock in the second ODI against Ireland last Monday.
"If you start flying, this team will be an even better team and will fly in the World Cup [upcoming ODI World Cup in India later this year]. So, congratulations on 15,000 [runs in international cricket]," Bangladesh batting coach Jamie Siddons said addressing Tamim.
Siddons also added that all the four stalwarts of Bangladesh -- Shakib, Tamim, Mushfiqur, and Riyad -- can still have the best three years of their careers.
"I know you are a great player, and when I first came back to Bangladesh this time, I wanted to make sure that you [Tamim], Mushy [Mushfiqur Rahim], Shakib, and even [Mahmudullah] Riyad have the best three years of your career. If you are gonna finish your career in three years or whenever it is, I still think you can have your best three years. So, let's make sure we get you back to that. Well done," Siddons said before giving Tamim his plaque.
Mushfiqur, who also received a plaque from Hathurusingha, also reached the landmark of 7000 ODI runs, becoming the third Bangladeshi after Tamim and Shakib to do so during a blistering 60-ball century against Ireland in the second ODI. His 60-ball hundred is now the quickest in ODIs by a Bangladesh player, bettering the 63-ball ton Shakib had made against Zimbabwe in Bulawayo in 2009.