Shilpa Shetty "Reflects" on Her Saree Selections And Gives Them A Powerful Twist
Published: 3/22/2023 5:38:00 AM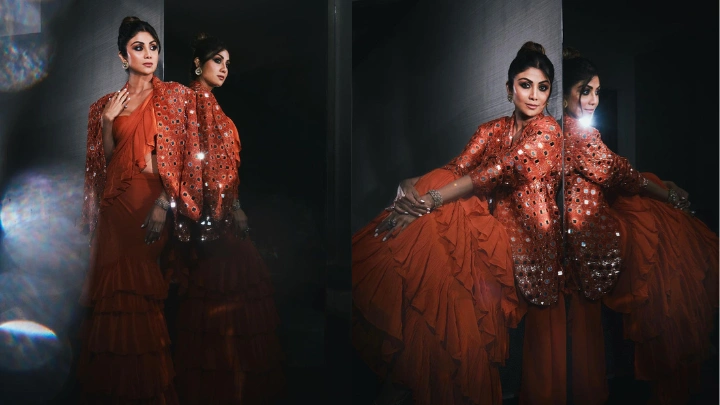 Even though we have a strong love for sarees, wearing them the same way over and over can get boring. What is that one method for keeping it traditional, enjoyable, and intriguing? Consider a fusion style. If you're not sure how to do that, watch Shilpa Shetty do it powerfully.
She recently uploaded photos of herself wearing a stunning orange saree with tiered ruffles all over that she bought from designer Arpita Mehta's racks. What else? It got a power twist from Shilpa. She overlaid it with an equally lovely orange hand-embroidered jacket with intricate mirror work and power shoulders. Shilpa chose stud earrings, bangles, and rings as her accessories. She continued to wear lipstick with a subtle orange tint, defined brows, and smokey eyes. A few strands of her bun-styled hair were left untied.

We were compelled to take notes [in a good way, of course] by Shilpa Shetty's red saree. Her basic OOTD, which she purchased from Ashdeen, had a peplum-style look and a lovely pattern embroidered with white and pastel threads. The ethnic drape was made prettier by the pastel floral motifs. The scalloped borders added some much-needed drama on top of this. The right mood was created by her choice of white statement studs. In addition, Shilpa accessorized with bangles and glossy, tinted lips.