Seeing these three of Razz's posters made me cry: Pori Moni
Published: 3/20/2023 5:54:00 AM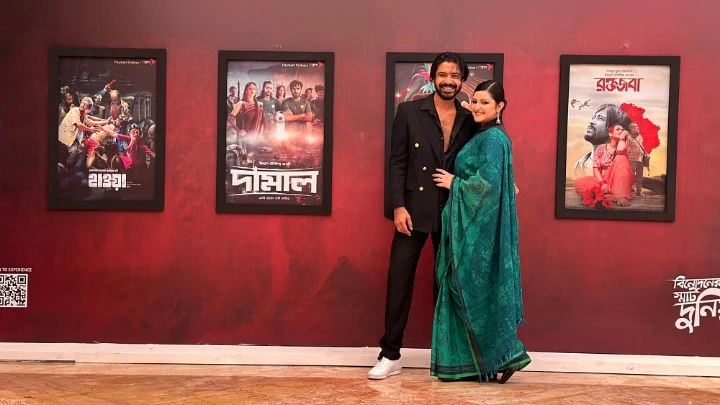 Two of Sariful Razz's popular movies, "Hawa" and "Damal," were just made available on the OTT service iScreen. "Roktojoba," another of his movies directed by Niamul Hasan Mukta, is scheduled to debut on the same platform soon.
Sariful Razz was present at the iScreen launching ceremony alongside Pori Moni, his devoted wife. Additionally, they posed for pictures in front of the movie posters for Razz.
"This event was very much to my liking. I was overcome with emotion when I saw three posters for my husband's movies. I was on the verge of crying because of it "Pori Moni was given to The Daily Star.
The lead actors in "Roktojoba" are Sariful Razz and Nusrat Imrose Tisha. They are working together for the first time on this. The movie, which centers on a mysterious letter sent to a former headmistress, was briefly teased at the event.
"Roktojoba" was filmed in a variety of locations before COVID in Dhaka, Chandpur, and Manikganj.