Ukraine Black Sea grain deal renewed
Published: 3/20/2023 5:36:48 AM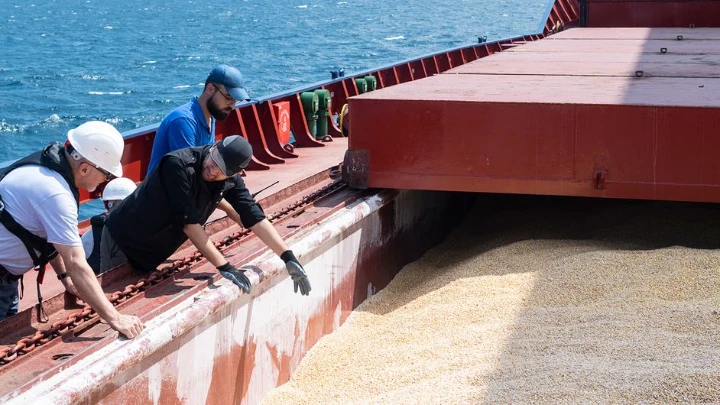 After Russia warned that any further extension beyond mid-May would depend on the lifting of some Western sanctions, a deal allowing the safe export of Ukrainian grain through the Black Sea was extended on Saturday for at least 60 days, or half the intended period.
The United Nations and Turkey mediated the agreement with Russia and Ukraine in July, and in November it was extended for an additional 120 days. The goal was to combat a global food crisis that was exacerbated in part by Russia's invasion of Ukraine on February 24, 2022, and its blockade of the Black Sea.
The agreement was supposed to end on Saturday.
On Saturday, the United Nations and Turkey announced that the agreement had been extended, though they did not say for how long. According to Ukraine, a 120-day extension was made. However, Russia's assistance is required, and Moscow only consented to extend the agreement for 60 days.
In a statement, UN spokesman Stephane Dujarric said that the Black Sea Grain Initiative and the Memorandum of Understanding on promoting Russian food products and fertilizers to global markets are crucial for ensuring global food security, particularly for developing nations.
Russia and Ukraine are significant international producers of food products, and Russia is a major exporter of fertilizer.
Mykola Solsky, Ukraine's minister of agriculture, asserted on Saturday that his country had provided nearly 500,000 tonnes of wheat for UN relief efforts and insisted that the Black Sea export agreement, which had been extended for 120 days, provided a chance to continue providing aid to those in need and "save the world from hunger."
A three-year agreement was also reached in July, in which the UN agreed to assist Russia with its exports of food and fertilizer. This helped persuade Russia to allow Ukraine to resume its Black Sea grain exports.
Off the coast of Yenikapi in Istanbul, commercial vessels, including those involved in a Black Sea grain deal, wait to cross the Bosphorus strait.
As a result of Russia's invasion of Ukraine, the West has put tough sanctions on the country. Moscow claims that even though its exports of food and fertilizer are not subject to sanctions, they are hindered by restrictions on payments, the logistics, and the insurance sectors.
The European Union, the United States, and Britain now "have two months to exempt from their sanctions the entire chain of operations which accompany the Russian agricultural sector," according to Vassily Nebenzia, Russia's UN ambassador, if they want the Ukraine Black Sea grain deal to continue.
Washington had "gone to extraordinary lengths to communicate the clear carve-outs for food and fertilizers to governments and to the private sector," said US Ambassador to the UN Linda Thomas-Greenfield in response.
Nebenzia outlined the issues Moscow wanted to be resolved in a letter dated March 16 that was posted on Twitter on Saturday by a Russian diplomat. These issues included allowing the Russian Agricultural Bank to rejoin the SWIFT banking system and allowing the supply of agricultural equipment and spare parts to Russia.
Nebenzia added that the accounts and financial operations of Russian fertiliser companies need to be unblocked, as do restrictions on insurance and port access for Russian ships and cargo. She also called for the restart of a pipeline that transports Russian ammonia to a Ukrainian Black Sea port.
According to the United Nations, there are still obstacles, particularly in relation to payment systems, despite the fact that progress has been made in facilitating Russian agricultural exports.
Dujarric stated on Saturday that the UN was "strongly committed" to seeing that the agreements with Moscow and the Ukraine Black Sea grain deal were fully implemented. He urged "all sides to redouble their efforts to see that they are fully implemented."
According to the UN, Ukraine has so far exported nearly 25 million tonnes of the agreement's primary exports, corn and wheat. China, Italy, Spain, Turkey, and the Netherlands have been the top countries for shipments.