After a two-year ban, Trump is back on Facebook and YouTube.
Published: 3/19/2023 9:28:22 AM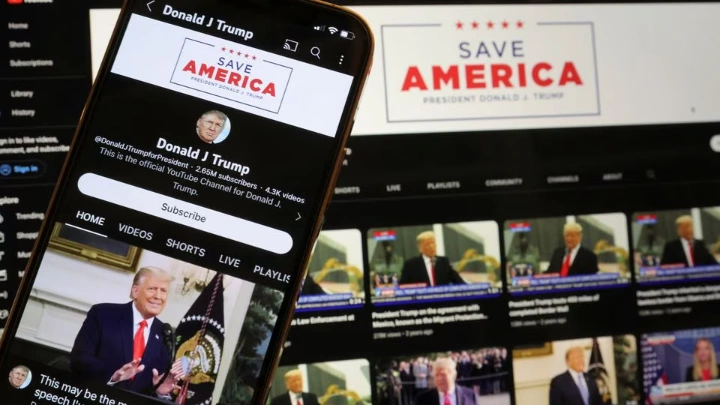 Former U.S. President Donald Trump's YouTube account is seen on a mobile phone and laptop computer after being restored by Google and its parent company Alphabet Inc, as Google lifted a more than two-year suspension imposed on Trump after the deadly January 6, 2021 Capitol Hill riot, in Washington, U.S. March 17, 2023. REUTERS/Jim Bourg
On Friday, former US President Donald Trump uploaded videos to YouTube and Facebook, returning to the social media sites he had previously used to fuel his political ascent before being blocked after his supporters' attack on Congress on January 6, 2021.
The "I'M BACK!" posts on his Facebook and YouTube pages feature a CNN video announcing Trump's victory over Hillary Clinton in the 2016 presidential election. A screen reading "Trump 2024" then fades in.
"Sorry to keep you waiting," Trump says in the video.
Alphabet Inc's (GOOGL.O) YouTube restored Trump's channel earlier on Friday. Meta Platforms Inc (META.O) had reinstated Trump's Facebook and Instagram accounts earlier this year.
His Twitter account was reinstated in November by the platform's new owner Elon Musk but Trump has yet to post on Twitter.
Trump powered his improbable 2016 presidential campaign through his use of social media. His return gives him access to key vehicles for political fundraising, allowing him to reach a combined 146 million followers across three major tech platforms as he makes another run for the presidency in 2024.
"We carefully evaluated the continued risk of real-world violence, while balancing the chance for voters to hear equally from major national candidates in the run up to an election," YouTube said in a tweet, referring to its move to restore his account.
Trump's campaign team did not immediately respond to a request for comment.
His campaign spokesman told Fox News Digital in January that being back on Facebook "will be an important tool for the 2024 campaign to reach voters."
The former president founded his own social media platform called Truth Social in late 2021, which he relied on to communicate with supporters during his ban from Twitter and Meta.
YouTube banned Trump in 2021 for violating its policy against inciting violence after his supporters stormed the U.S. Capitol as Congress was certifying Joe Biden's victory in the 2020 presidential election.
Trump's detractors claim that his posts on Truth Social, where he has close to 5 million followers, show that he still represents the same risk that caused his suspensions.
Trump's return to social media platforms like YouTube and Facebook comes as the Manhattan District Attorney's office is considering filing criminal charges over hush-money payments made to a porn star during Trump's 2016 campaign. Trump and his allies claim that the charges are politically motivated without providing any supporting evidence.
Trump is also facing a $250 million civil fraud lawsuit from the state of New York, which accuses him of engaging in a decade-long scheme to inflate the value of more than 200 assets and his net worth in order to obtain better loan terms from banks and insurance companies. Trump referred to the lawsuit as a witch hunt.