Cepa might revolutionize trade between India and Bangladesh.
Published: 3/17/2023 1:06:19 PM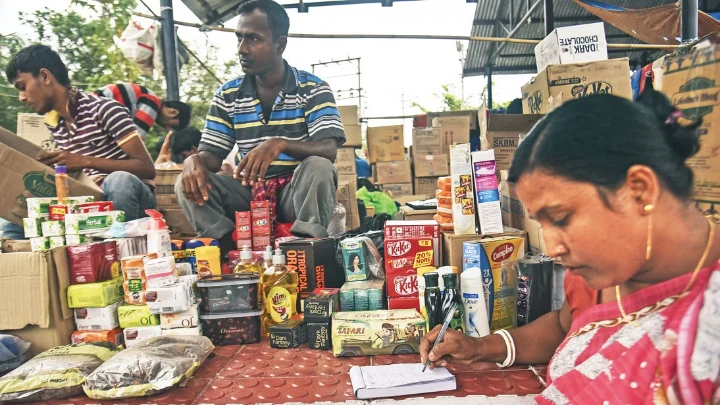 Shopkeepers wait for customers at a stall at a border haat in Mokamia, Feni. Currently, seven haats along the Indian border are being operated and the number will be increased in the future, Indian High Commissioner Pranay Verma said. Photo: Star/file
According to Indian High Commissioner Pranay Verma, the planned Comprehensive Economic Partnership Agreement (Cepa) could fundamentally alter trade relations between Bangladesh and India.
He claimed that enhancing trade and commerce between the two nations depends on smooth connectivity. Additionally, Bangladesh and India could have more expanded land, rail, and even waterways.
Bilateral trade has significantly increased over the past ten years, and the envoy predicted that a Cepa could drastically change trade and commerce between the two nations.
Stronger connectivity, he asserted, is what propels economic growth.
According to a press release from the Dhaka Chamber of Commerce and Industry (DCCI), Verma delivered a speech at a seminar on "Improved Connectivity: Unlocking Economic Potential between India and Bangladesh" that was jointly organized by the High Commission of India and the hotel's Le Meridien.
He claimed that seven land customs stations are currently undergoing infrastructure development, which will increase two-way trade. He stated that there are currently seven border haats in operation and that there will be more in the future.
In the most recent fiscal year, bilateral trade between Bangladesh and India totaled $16 billion.
However, by addressing non-tariff barriers and connectivity-related issues, it is possible to increase bilateral trade to at least $20 billion, according to Md. Sameer Sattar, president of the DCCI.
According to a World Bank report, seamless transport connectivity could boost Bangladesh's and India's national incomes by 17% and 8%, respectively.
"Improving connectivity between Bangladesh and India's northeastern region is crucial for supporting the regional market and enhancing our trade with India."
According to Mashiur Rahman, the prime minister's economic advisor, Bangladesh may consider using local currencies for its bilateral trade when it comes to export and import.
He argued that because Bangladesh's investment climate is so welcoming, more Indian businesses ought to make investments there.
"A few development projects, like the building of the Bangabandhu railway bridge, are currently under way and will provide ample opportunity for bilateral trade in terms of railway connectivity."
He also demanded that the anti-dumping duty imposed on Bangladesh's export of raw jute be reviewed.
The advisor emphasized the significance of the seamless transhipment of Bangladeshi goods through India and claimed that a simple visa application process was required for efficient businessmen's exchanges between the two nations.
40% of trade between the two nations occurs through land ports, according to a presentation made by the high commission's representatives. 70% of which take place at the Benapole-Petrapole land port.
The officials noted the expanding inland waterways, coastal shipping, air and rail connectivity, noting that the bilateral trade has doubled over the past five years and Bangladesh's export to India has doubled over the past three years.
The presentation stated that Bangladesh has the potential to expand its trade with India, and that both nations benefit from India's access to the Mongla and Chattogram ports. It also stated that once the India-Bangladesh pipeline is finished, one million tonnes of diesel can be transported to Bangladesh every year.