Masaba's "Maa" saree by Rani Mukerji is a tribute to her performance as Mrs. Chatterjee.
Published: 3/17/2023 12:57:11 PM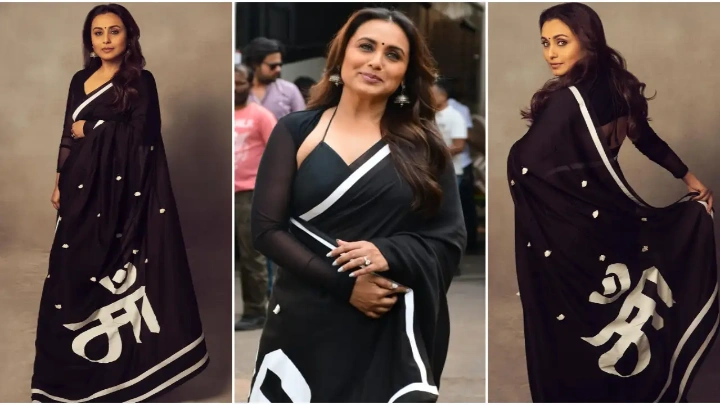 In the soon-to-be-released movie Mrs. Chatterjee Vs. Norway, played by Rani Mukerji, mother Debika Chatterjee battles the system after having her children taken away by child protective services in Norway. The actress has been actively promoting the film and looking stunning in gorgeous sarees from Masaba Gupta's self-named line, House of Masaba.
She was recently spotted arriving for the Mrs. Chatterjee vs. Norway promotions wearing a stunning black saree from Masaba with the word "Maa" written over it. With the exquisite saree, the actress made a strong impression. If you enjoyed it as much as we did, continue reading to learn more about it, including its specifics and price.

In a black saree from the movie House of Masaba, which draws inspiration from Rani's upcoming role as Mrs. Chatterjee, she looked absolutely stunning. The black Chanderi Mul and raw silk saree has a white stripe along the borders, and the pallu has white tassel embroidery detailing and the word "Maa" printed in Devanagari script. The price of the "Maa" Sportee Saree is Rs 17,000, and it is offered on the House Of Masaba website. The most potent word to ever exist, Masaba Gupta wrote on Instagram while describing the saree. An homage to Rani Mukerji's most recent performance as Mrs. Chatterjee, a woman who fought a nation for her children, can be found in The "Maa" Sportee Saree. derived from a true story.
Rani wore a full-sleeved "arm warmer" over her shoulders and a statement blouse with a strappy halter neck to complement the black saree. The actress wore oxidized earrings, a ring, and a black bindi as her only jewelry pieces. She wore her hair loose and looked flawless! Look at the images below.